Proton therapy center treats 300th patient
Proton International at the University of Alabama at Birmingham, the first proton therapy center in Alabama, has treated its 300th patient. The center, a partnership between Proton International and UAB, performed its first treatment March 11, 2020. It is one of only 38 proton therapy centers in the United States.
The 300th patient, 8-year-old Correy Bozeman of Luverne, Alabama, was also the 99th patient. Correy has a rare tumor in his spinal cord. It was first treated with proton therapy in November 2020 and unfortunately returned later in 2021, requiring additional therapy.
Correy wrapped up the second course of proton therapy in early October of this year. His mother, Meredith Bozeman, says their ordeal began in September of 2020 when Correy complained of back pain. Their first thought was a muscle pull; but within two weeks, he couldn't walk. Imaging at Children's of Alabama found the tumor.
"We've had two courses of proton therapy, chemotherapy over the summer and surgery that was able to safely remove part of the tumor," Meredith said. "Correy has a condition called Dicer One syndrome that pre-disposes a person to tumors, and his cancer is widespread and aggressive. We're hopeful that this round of proton therapy has killed the new cancer cells that have spread along his spine."
Proton therapy uses focused beams of protons directed at the tumor site, designed to deliver the majority of its energy precisely at the tumor location using the pencil beam technology. Healthy tissue in front of the tumor receives a substantially lower dose, and the normal tissue beyond the tumor receives essentially no dose. This significantly reduces the damage to surrounding healthy tissues that is common in the use of conventional X-ray radiation and is the cause of most side effects.
"The use of proton therapy over traditional radiation is especially beneficial for pediatric patients as it reduces the risk of damage to tissue as a child is growing," said Michael Soike, M.D., assistant professor in the Department of Radiation Oncology in the Heersink School of Medicine. "The collaboration between Children's of Alabama and UAB is essential to successful outcomes."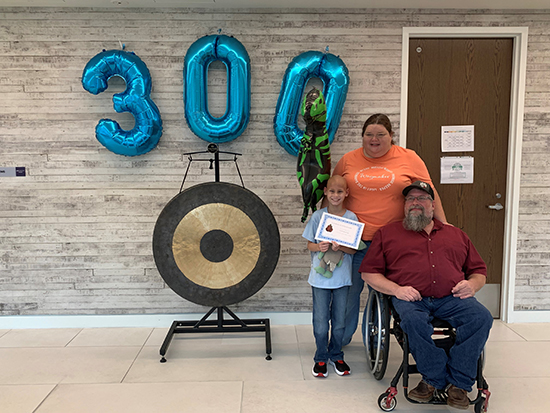 "Proton therapy is awesome," Meredith said. "We were so impressed with everyone at the Proton Center. They took on Correy as one of their own. The pain he was experiencing is gone, and he has had very minimal side effects — just some fatigue. We'll get another scan next month to see if the cancer is truly gone."
Following his first round of therapy, Correy gave the staff a Baby Yoda, similar to one he brought with him to treatment each day. On his final day of treatment, he told the staff that he was excited to finish therapy but was sad as he would miss everyone at the center.
Proton International at UAB has now performed more than 10,500 treatments, as most patients receive 30-35 treatments over six weeks. The center can treat 40-45 patients per day.
"Reaching this milestone with our 300th patient in so short a time, especially with the disruptions caused by the COVID-19 pandemic, is a testament to the outstanding physicians and staff at UAB's Department of Radiation Oncology and O'Neal Comprehensive Cancer Center," said Chris Chandler, CEO of Proton International. "We are thrilled that we have been able to bring this cutting-edge cancer-fighting technology to residents of Alabama and the surrounding region."
Proton International at UAB is on 20th Street South between Fourth and Fifth avenues. The facility consists of a three-story building to house clinical exam rooms, offices and the ProBeam proton therapy system, manufactured by Varian Medical Systems, a longtime partner with UAB in the delivery of radiation therapy. The medical staff, including radiation oncologists, medical physicists, dosimetrists, radiation therapy technologists and nurses, is exclusively from UAB.