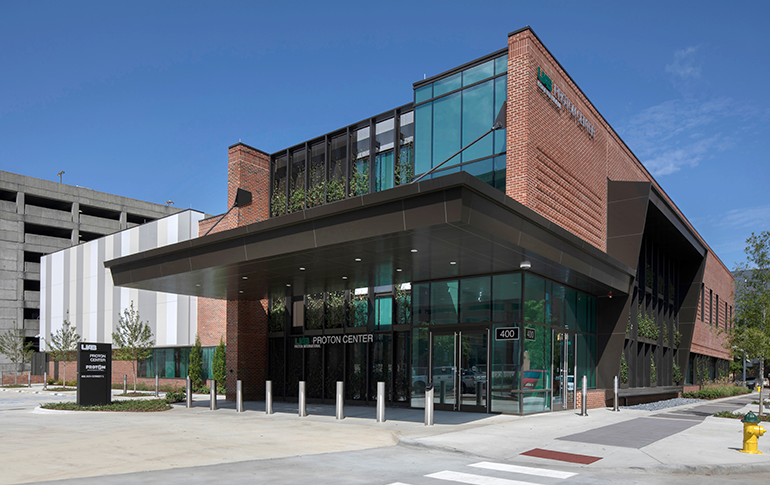 Proton International at UAB
The goal of radiation oncology has always been to get more radiation to a tumor while reducing the impact on healthy surrounding tissue. Traditional X-ray radiation therapy uses photon beams to attack cancer cells, but using protons is the next step toward improving this process. Protons reduce the dose to the healthy surrounding tissue and nearby organs which leads to less side effects, positive long-term outcomes, and improved quality of life in many patients.
Proton International at UAB is Alabama's first and only proton therapy center and opened in March 2020. This technologically advanced, 32,500-square-foot facility includes a 10,000-square-foot concrete vault for the treatment equipment, 20,000 square feet of clinical space, offices, exam rooms, and a prep/recovery area, and 2,500 square feet of mechanical space. The freestanding building's two-story lobby features high-end finishes with natural light throughout, while the exterior features UAB's signature brick façade and a living green wall. In conjunction with the Hazelrig-Salter Radiation Oncology department, this facility offers comprehensive cancer care for patients in need of radiation oncology services.
This revolutionary new proton therapy center is designed to treat a variety of cancers, including:
Videos
Additional Information
Parking
Parking is available adjacent to the facility.