Support Services & Programs Menu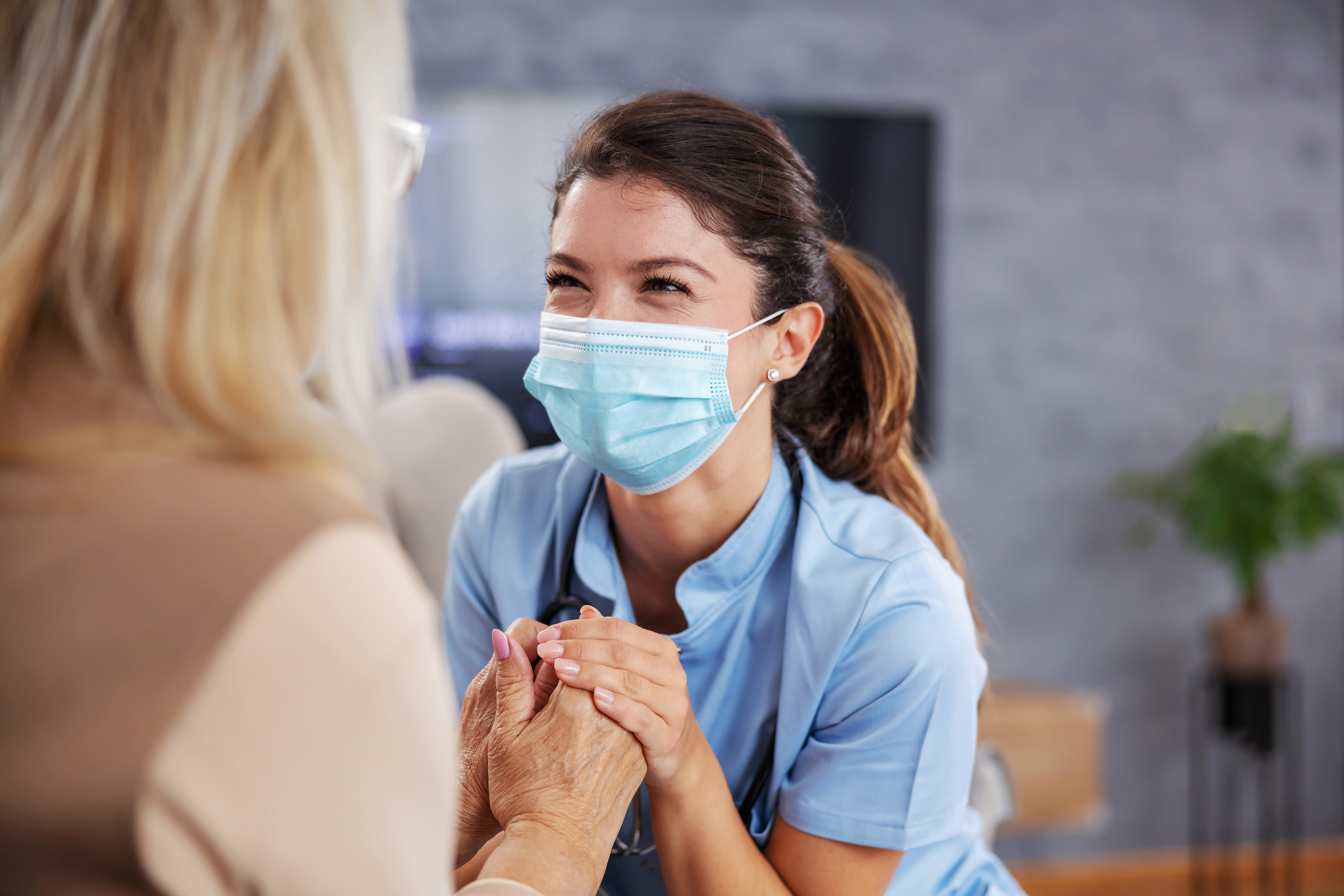 Support Services & Programs
Many resources and support programs are available at UAB to support your physical, emotional, and spiritual well-being. Whether it's learning more about your diagnosis and treatment, nutrition counseling, or getting assistance with transportation to your medical appointments, our team is here to help. Our Supportive Care Clinic, in addition to our other specialized survivorship programs, accompany you throughout your treatment journey to help with everything from managing symptoms, mental health, and even the long-term challenges of survivorship. Learn more about our services and support programs below.
Arts in Medicine
UAB Arts in Medicine (AIM) strives to transform the care environment and enhance well-being and healing through creative arts experiences for patients, families, and staff. Integrating the arts into the health care environment has been shown to benefit patients and caregivers in the following ways:
Reduced stress levels
Reduction in perceived pain
Improved mood
Distraction from medical problems
Increased self-expression
Increased self-confidence
Cancer Patient Navigators
The O'Neal Comprehensive Cancer Center at UAB offers navigation services to all new cancer patients at UAB Medicine. The navigation team works directly with patients and their caregivers to help ensure a personalized and coordinated care experience – from diagnosis and treatment to survivorship.
Cancer Rehabilitation Program
The UAB Medicine Cancer Rehabilitation Program serves patients before, during, and after treatment. Starting the program early can reduce the negative effects of chemotherapy and other cancer treatments on physical and mental abilities. The program helps cancer survivors who have finished treatment and need to improve their ability to walk, exercise, and more. It also teaches patients and their caretakers how to safely complete daily care tasks, allowing them to continue their cancer journey at home rather than in a hospital. Click here to learn more about the Supportive Care Clinic.
Cardio-Oncology Clinic
Some cancer treatments can damage the heart and the cardiovascular system. UAB Medicine's cardio-oncology program addresses that problem by offering complete testing and specialized care to help protect patients who are undergoing cancer treatment that may affect cardiovascular function.
Fertility Preservation
Our nationally recognized physicians have years of experience in supporting male and female fertility. Our team includes a urologist, a reproductive endocrinologist, specialized nurses, and laboratory scientists. Our fertility experts will determine a treatment plan that is best suited for each individual and his/her partner.
Genetic Counseling
The UAB Clinical Genetics Team is staffed by specially trained genetic counselors and physicians who can investigate cancer risk in your family and provide clear and clinically relevant information in a supportive environment. This information may be helpful to you and your doctor in making medical decisions about how to manage your risk for cancer.
Nurse Call Center
Clinical staff are available to you on a direct phone line to address most symptom related questions and concerns while you are on the phone.
Nutrition
Our registered dietitians work with you to make sure you are well-nourished during your cancer treatment and survivorship. Our dietitians specialize in oncology and help minimize the side effects of cancer treatment through healthy eating, restoring or maintaining digestive health, and preventing or treating malnutrition.
Oncology Psychology and Counseling
Cancer affects more than just the body. Our specially trained psychologists and counselors will work with you and your loved ones to manage emotional and relational distress through all phases of your cancer journey. We specialize in treating cancer-related anxiety, depression, post-traumatic stress, insomnia, fatigue, and pain, and we also can help improve family communication to enhance your quality of life and support system. Sessions for Individuals, couples, and families are available to meet the needs of each person.
Oncology Social Work
Cancer affects every aspect of your life, not just your body. Oncology social workers help you address the complex personal challenges – emotional, social, and financial – that are not solved by medical treatment. They are specialized in connecting you to cancer-specific resources, support groups (which they often lead), counseling, home care, transportation, and many other services you might not have even considered. Managing these challenges can be overwhelming for you and your loved ones, but our oncology social workers are here to help.
Sexual Health
Cancer and cancer treatments can cause sexual difficulties, especially among women. Managed by the Division of Gynecologic Oncology, our Sexual Health and Cancer Clinic offers specialized counseling, education, and care to women being treated for gynecologic and breast cancer. Some of the sensitive issues we can help you work through include:
Sexual dysfunction.
Pain with sexual activity.
Decreased arousal or desire.
Vaginal dryness or difficulty with lubrication.
Lack of or decreased orgasms.
Menopausal symptoms.
Lack of intimacy with partners.
Difficulty with dilator insertion/usage.
Communication with partners about sexual health and cancer.
Specialty Pharmacy
The Kirklin Clinic of UAB Hospital pharmacy is located on the 2nd floor of the clinic. It offers disease-specific programs focusing on patients who need help managing their therapy. The hours of operation are 8 am to 6 pm, Monday through Friday. A pharmacist is available for patients and caregivers 24 hours a day, 7 days a week for questions and support.
Pharmacists are available to answer any questions you may have about your medications. Our pharmacists specialize in oncology and help patients obtain their medication, address costs, and manage side effects.
To learn more, please call 205.801.8730 or visit uabmedicine.org/specialty-pharmacy-services.
Spiritual Health
Cancer can be a difficult and demanding experience for patients and families. Spiritual resources or faith can be a source of strength, support, and comfort. Chaplains are an integral part of the health care team available to patients and their families 24 hours a day, 7 days a week while receiving care at the O'Neal Comprehensive Cancer Center. In addition, the Interfaith Chapel is always open for prayer, meditation, and reflection.
Support Groups
We offer cancer support groups as a safe place to connect with others facing the same challenges in their cancer journey. These groups are great for sharing helpful resources, talking about your experience, better understanding your diagnosis, and receiving support. Studies show that these groups also can provide a strong sense of community and reduce stress.
Tobacco Cessation
Cigarette smoking causes more than 480,000 deaths each year in the United States. Over 41,000 of these deaths are from breathing secondhand smoke. That's about one in every five deaths, or 1,300 per day, according to the Centers for Disease Control and Prevention. On average, smokers die 10 years earlier than nonsmokers. Smoking often causes serious health issues, such as heart attack, stroke, high blood pressure, chronic obstructive pulmonary disease (COPD), lung cancer, and other cancers. Smoking also increases your risk for blindness.
Other oral and inhaled tobacco products also cause health problems. These products include chewing tobacco, snuff, dip, cigars, and pipes. As with cigarettes, using these products often leads to cancer, heart disease, and other serious health conditions.
Some smokers try "vaping" to help them quit. Vaping is the use of electronic cigarettes, or e-cigarettes, which do not contain tobacco but instead heat up nicotine to produce a smoke-like vapor that is then inhaled. Some smokers find that vaping helps them quit smoking for a few months, but they often go back to smoking. A recent study found that after one year since starting to vape, 90% of study participants were still smoking cigarettes.
We are here to assist you with tobacco cessation. Please talk with your team about our tobacco cessation program to review all your options.
Additional Clinical Support
We offer physical and occupational therapy, speech pathology, pain management, and audiology rehabilitation to support your quality of life. Your cancer team will coordinate these services for you based on your treatment plan.
Cancer Education
Nationally endorsed education about your diagnosis and treatment can be found on the following recommended websites: