Barry P. Sleckman, M.D., Ph.D.
Director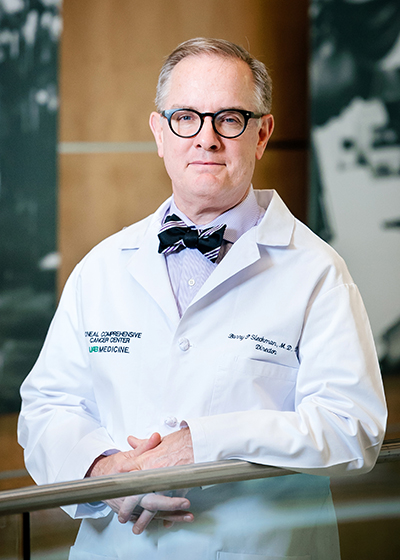 Barry Paul Sleckman, M.D., Ph.D., is the Director of the O'Neal Comprehensive Cancer Center at UAB. Sleckman is a world-renowned researcher who focuses on understanding how DNA double strand breaks are generated and repaired — a topic important for cancer and immune system development and function. Sleckman moved to UAB on Jan. 6, 2020, from Weill Cornell Medicine where he most recently served as an associate director of the Meyer Cancer Center.
Sleckman completed his M.D. and Ph.D. in immunology at Harvard Medical School. He then completed his residency in internal medicine and fellowship in infectious diseases at the Brigham and Women's Hospital. After completing his postdoctoral training in molecular immunology in the laboratory of Dr. Frederick Alt at Boston Children's Hospital, Sleckman started his own laboratory in 1998 as an assistant professor in the Department of Pathology and Immunology at the Washington University School of Medicine. Sleckman has held positions as a professor of pathology and laboratory medicine and a professor of microbiology and immunology, and he also served as an associate director of the Siteman Cancer Center at Washington University for 10 years prior to moving to Weill Cornell Medicine.