Acton Road Cardio-Oncology Clinic Offers Cardiovascular Expertise to Cancer Patients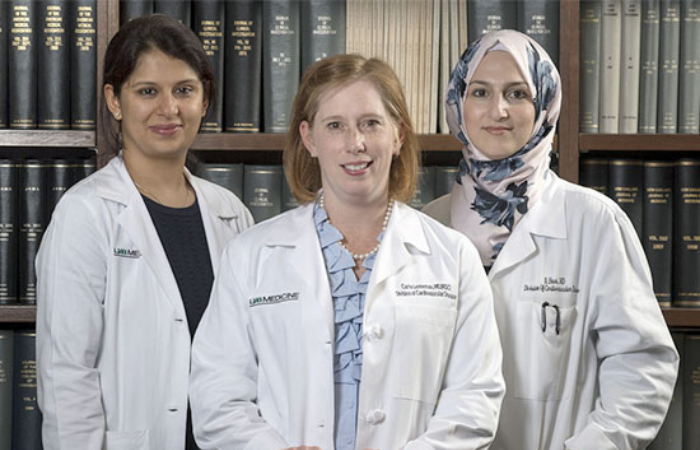 Certain cancer treatments can damage the heart and the cardiovascular system. The cardio-oncology clinic at the O'Neal Comprehensive Cancer Center at Acton Road is addressing that problem. The clinic offers comprehensive testing and specialized care to protect cancer patients undergoing therapies that can affect cardiovascular function.
Cancer therapies often negatively impact a patient's cardiovascular function. Side effects such as high blood pressure, abnormal heart rhythms (arrhythmias), heart blockages, and heart failure can be caused (or made worse) by radiation therapy, chemotherapy, and newer treatments such as targeted therapies or immunotherapies.
Radiation therapy can cause heart failure, heart attack, and irregular heart rhythms. Certain chemotherapy drugs can weaken the heart muscle. Others can cause high blood pressure and may increase the risk of blood clots and heart failure. Hormonal therapies can cause stroke, heart attacks, and blood clots. Certain side effects and complications that cause cardiac problems occur during chemotherapy, but others may show up much later.
Highly Specialized Cardio Care
Carrie Lenneman, MD, who leads the cardio-oncology team, says care for patients with cancer goes beyond just surviving complications.
"We know that cancer patients are surviving," Dr. Lenneman says. "But the second most common cause of death in cancer survivors is heart disease. So prevention and early identification of the cardiac effect of cancer treatment is our goal, to help our patients lead long and healthy lives."
The cardio-oncology clinic at Acton Road is specifically designed to serve cancer patients at risk of heart disease or with existing heart disease. The clinic team is part of UAB Medicine's nationally ranked Cardiovascular Institute, and these highly specialized physicians are experts in treating specific heart and vascular conditions. They use advanced cardiology evaluations to identity patients who may be at increased risk for treatment-related cardiac problems. These same providers address and manage existing complications from cancer treatment that can affect the cardiovascular system.
Located just off I-459 in the Altadena community, the O'Neal Comprehensive Cancer Center at Acton Road provides convenient access for the community and for those who may need to travel to Birmingham to receive care. As a National Cancer Institute-designated cancer center, its new programs and specialized care teams provide the same level of technology and resources that patients have come to expect from UAB Medicine.
Learn more about all of the services available at the O'Neal Comprehensive Cancer Center at Acton Road.
SOURCES:
https://www.ncbi.nlm.nih.gov/pmc/articles/PMC5825188/
https://www.cancer.gov/news-events/cancer-currents-blog/2018/cancer-treatment-heart-side-effects