Arend named new co-leader of Experimental Therapeutics Program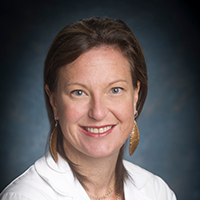 The O'Neal Comprehensive Cancer Center at UAB is pleased to announce that Rebecca Arend, M.D., MSPH, will join Drs. Narendra Wajapeyee and Suzanne Lapi as Co-Leader of the O'Neal Experimental Therapeutics Research Program.
Arend is an associate professor and physician scientist in the Division of Gynecologic Oncology, Department of Obstetrics and Gynecology in the UAB Heersink School of Medicine. Arend received her medical degree from Albert Einstein College of Medicine; she completed her residency in obstetrics and gynecology at Columbia Presbyterian Hospital and her fellowship in gynecologic oncology at UAB before joining the faculty here in 2015. Arend also received a Master of Science in Public Heath degree in clinical-translational research from UAB.
Arend currently oversees translational research in the Division of Gynecologic Oncology. Additionally, she is the co-chair of the Gynecologic Oncology Working Group responsible for maintaining the division's clinical trials portfolio, and she is chair of the Data Safety Monitoring Committee (DSMC) within the O'Neal Comprehensive Cancer Center. She has served as the lead principal investigator on three industry-sponsored/GOG Foundation national and international trials, which included a Phase II study using the WNT pathway modulator – DKN-01 as a monotherapy or in combination with paclitaxel. Arend is a panel member for the NCCN guidelines for Endometrial Cancer, Cervical Cancer, Vulvar Cancer, and Gestational Trophoblastic Neoplasia. In addition, Arend has co-directed the Society of Gynecologic Oncology (SGO)'s Emerging Clinical Trialists Course for six years.
Arend's expertise in investigator-initiated clinical trials will be an excellent addition to the leadership of the Experimental Therapeutics program. Please join us in welcoming her to this role.