Cancer Survivor Thanks Her Doctor with Unusual License Plate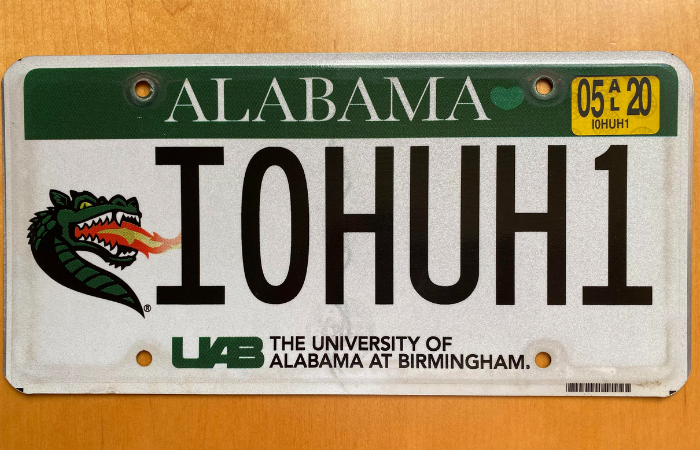 Cancer survivor Leslie Hamilton makes a habit of purchasing a special license plate each year that supports a worthwhile cause. Her 2019 tag, however, was a UAB Blazers plate with a direct message to the UAB Medicine doctor who treated her: gynecologic oncologist Warner Huh, MD. She chose IOHUH1, which is license-plate shorthand for, "I owe Huh one". When the tag expired, she presented it to Dr. Huh as a gift of appreciation.
Hamilton, 42, is a phlebotomist and cord blood collection specialist with LifeSouth Community Blood Centers. In 2015, she was diagnosed with cervical cancer and began treatment at the O'Neal Comprehensive Cancer Center at UAB. Hamilton recalls being distraught during the early days of her cancer journey but also finding comfort in the care team at UAB Medicine.
"I was an emotional mess when I got there, to be perfectly honest," Hamilton says. "But Dr. Huh's care team is amazing. Even when I was at my lowest physical and emotional points because of the cancer, they were a phone call away or available through the patient portal and always responded quickly. Dr. Huh even arranged for me to do many of my treatments in Opelika, which saved me a lot of driving up and down Highway 280. The main point is that 2020 marks my fifth year of survivorship. Not only did I survive cervical cancer, I know I have many years of life ahead of me."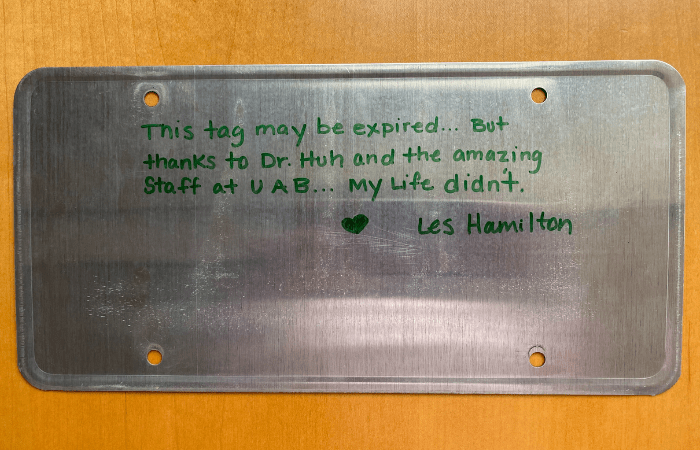 A Message of Gratitude
The tag was an immediate conversation-starter. Many people asked about the meaning of the tag, giving Hamilton opportunities to share her story. Others instantly understood the message.
"A lot of people would ask me if that was an assigned number, so I would explain the message and everyone just loved it," Hamilton says. "But Dr. Huh is well-known, especially among the many people who were part of my support network and of course among cancer patients in Alabama. One day a woman approached me and said, 'I know exactly what your tag means. Dr. Huh is my doctor, too!' We had a chance to exchange our stories then."
When the tag expired, Hamilton used a color-appropriate green Sharpie to add a note on the back that said, "This tag may be expired. But thanks to Dr. Huh and the amazing staff at UAB, my life didn't."
"I change out my plates every year, because I prefer to get those that provide a donation to a medical cause, such as ovarian cancer," Hamilton says. "For this one, I was already planning to give it to Dr. Huh when I reached my five-year mark. I joked that he could hang it on the wall in his office next to his diploma. I thought it would be a fun and memorable way to show my appreciation to the doctor who made such a difference in my life."
Dr. Huh and his team were surprised and delighted by Hamilton's unique gesture of appreciation.
"We were speechless and beyond flattered when Ms. Hamilton presented this tag to us," Dr. Huh says. "In fact, it was hard not to be emotional about it. She is right – it's a testament to the team members in the Division of Gynecologic Oncology and our commitment to excellent, compassionate patient care. I am deeply grateful, but the credit really goes to the nursing and clinic staff. They raise the bar for cancer care every day. I do chuckle that this was on the back of her car for the past year, thinking how many people tried to decipher it. And it makes me smile that some people understood it immediately."