From leukemia patient to a pediatric ER nurse
For young children, hospitals with their noises, alarms and constant bustling of people can be intimidating. For Serenity Lane, hospitals became her second home when she was diagnosed with leukemia at the age of 4.
She spent more than two and a half years in and out of the Children's of Mississippi Hospital. Almost 15 years after beating leukemia and graduating from one children's hospital, Lane will return to another, this time as an emergency medicine nurse.
On Aug. 13, 2022, Lane will graduate from the University of Alabama at Birmingham School of Nursing and begin her first job in the Children's of Alabama emergency department.
While the Jackson, Mississippi, native was no stranger to the medical field as a child, it was not until her high school's health sciences program that she realized her own passion for science and anatomy. She originally considered becoming a hematology/oncology physician until she learned more about the nursing field.
"I realized how hands-on nurses are with their patients, and I wanted to have more of the patient care aspect of working in the medical field," Lane said. "I also thought back to my nurses who stayed by my side through my leukemia journey. They treated me like their family and helped ease my worries."
Upon hearing her desire to pursue nursing, Lane's father suggested the UAB School of Nursing. After he moved to Alabama, her father heard many stories of the exceptional nursing program and its consistent ranking as a top nursing school within the state and nationally.
Lane applied to UAB and was accepted into the Dean's Nursing Scholars Program, a program designed for academically talented high school seniors who are considering pursuing nursing. Being accepted as a scholar, and gaining priority admission into the competitive nursing program, motivated her to stay dedicated to her schoolwork even when COVID-19 hit.
"I was only a few semesters into school when the pandemic hit and everything went virtual," Lane said. "It was a difficult time. Being a dean's scholar kept me motivated to push through and keep my grades up. I knew I was meant to be a nurse, and having the opportunity to go through the UAB program was something I did not want to lose."
Once starting her Bachelor of Science in Nursing classes, Lane realized why the school consistently ranked high — it came with high expectations.
"They pushed me past being 'good enough' and helped me dig deeper into my studies and assignments while teaching me how to think critically about real-world situations, not just hypothetical textbook ones," Lane said. "It wasn't always easy. While the school expected a lot from its students, everyone from the faculty to the staff was there to offer guidance and resources."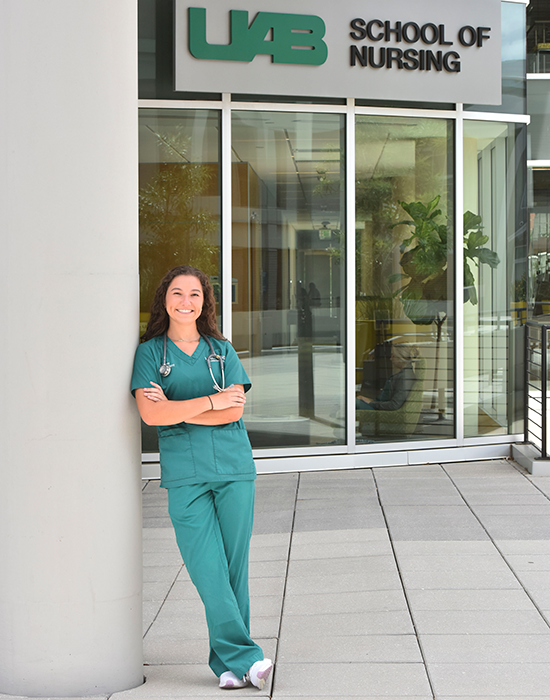 During her clinicals, Lane was introduced to pediatric emergency medicine and quickly fell in love with the fast-paced environment.
"You see everything and everyone in an emergency department. I saw how closely the team, whether they be doctors, nurses or therapists, had to work together to care for their patients," Lane said. "I saw it as an opportunity to be part of a team that could positively impact and touch so many different patient lives."
Lane continued to stay in touch with her leukemia medical team throughout her childhood and college career. When she was younger, she attended yearly reunions, usually at Camp Rainbow, a Mississippi camp for children with cancer. Later she began working side by side with members of her old care team as a camp counselor.
"The last time I saw the team, I made sure they knew they were the main reason that I pursued a career in the medical field," Lane said. "The next time I see them, I will officially be their colleague. I look forward to providing the care and support to others that they provided me."
Learn more about the UAB School of Nursing here.