From the Archives: George Wheelock III
Story by Josh Till | Cancer Center Magazine | Crossroads | Issue I | Spring 2008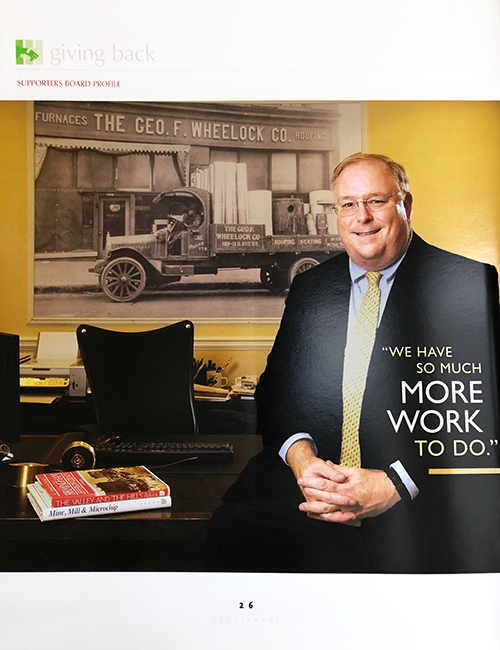 George Wheelock III is living up to a 120-year-old legacy. Birmingham had been in existence for only 17 years when his great-grandfather founded the family company in 1888. Since then, the Wheelock family has been an active contributor to the city's growth. Mr. Wheelock's great-uncle, architect Harry Wheelock, designed UAB's Hillman Building, which served as part of the original University Hospital, and his parents were also longtime supporters of UAB.
Today, Mr. Wheelock continues his family tradition, both as president of the George F. Wheelock Company, which specializes in heating and cooling supplies, and as a member of the UAB Comprehensive Cancer Center Supporters Board1.
1After a $30 million gift from the O'Neal family, the Cancer Center was renamed the O'Neal Comprehensive Cancer Center at UAB in 2018.
A heart and conscience
Mr. Wheelock became involved with the Cancer Center when his mother was being treated for bladder cancer. Since her initial diagnosis in 1963, she had been traveling to the Mayo Clinic in Minnesota for treatment, but she came to UAB in 1980 for a new therapy under the care of the Cancer Center's first director, John Durant, M.D.2
2In the 1970s, Durant established and developed the cancer program at UAB, quickly receiving a "comprehensive" designation from the National Cancer Institute in 1971, at which point Durant became the first official director of the then-UAB Comprehensive Cancer Center.
"He was able to help my mother a great deal," Mr. Wheelock says. "He was the perfect person for her at the perfect time."
The perfect time was also a time of change at the Cancer Center. In 1983, Dr. Durant left UAB to become president of Fox Chase Cancer Center in Philadelphia, Pennsylvania, and Albert LoBuglio, M.D.3, took over as Cancer Center director. One of Dr. LoBuglio's goals was to form an official supporters board designed to increase awareness of the center.
3LoBuglio served as the director of the Cancer Center from 1983-2004 and established the Supporters Board in 1984, which would later become the Advisory Board of the O'Neal Comprehensive Cancer Center at UAB.
"I had been contacted about joining the board by [first president] Lella Bromberg," Mr. Wheelock says. "We had about 15 people, and everyone wanted to give a heart and conscience to the institution."
Part of the Supporters Board mission – then and now – is to improve amenities and services for patients and their families. Mr. Wheelock and the other charter members began fulfilling it by donating artwork for patient rooms, offering juice and coffee services and providing valet parking at Wallace Tumor Institute.
"Everyone had a need," he recalls. "There was a lot that needed to be done."
Mr. Wheelock would go on to serve as the board's second president and first fundraising chair while his father was undergoing treatment for leukemia at the Cancer Center. Since that time, the Supporters Board4 has grown to more than 40 members and become an integral part of the Cancer Center's fundraising and patient services initiatives.
4The now-named Advisory Board currently comprises 83 members whose fundraising primarily culminates in the Cancer Center's annual ArtBLINK Gala for which Wheelock was recently chosen as Director's Circle honoree.
Unfinished business
Mr. Wheelock also enjoys being active in the community beyond the Cancer Center. Over the years, he has been involved in the Rotary Club, Operation New Birmingham, UAB's Leadership Cabinet, and the President's Advisory Committee of Birmingham-Southern College. In addition, he serves on the board of the Boys and Girls Club of Central Alabama and the leadership council of his alma mater, LaGrange College in Georgia, where he is a past trustee.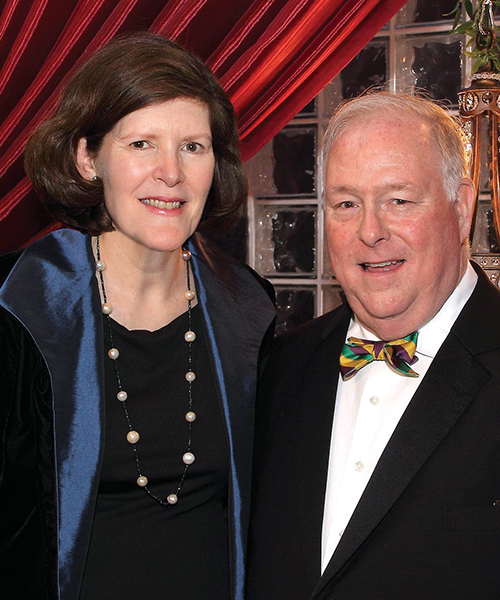 In fact, his civic involvement led him to meet his wife, the former Frances Sommers of Selma, Alabama.
"We actually first met when we were both junior patrons at the Birmingham Museum of Art," he says. "We didn't start dating until 10 years later when we reconnected at a friend's wedding. I thought I'd be a bachelor forever, but we were engaged a year later."
The Wheelocks will celebrate their 10-year anniversary in April 2008.
Mr. Wheelock also impacts Birmingham through his family business. He has been president of the George F. Wheelock Company5 since 1985, but he jokes that he is "still learning."
5In 2011, the George F. Wheelock company was purchased by Mingledorff's, Inc. of Norcross, Georgia.
Wheelock is still dedicated to the Cancer Center, as well. Though Supporters Board presidents tend to become less involved with the board after finishing their terms, Mr. Wheelock intends to be an active member for years6 to come.
6Wheelock has served as a member of the Advisory Board for nearly 40 years and continues to do so as of Nov. 5, 2020.
"It's remarkable how much UAB and the Cancer Center have changed," Mr. Wheelock says. "But we have so much more work to do. That's why I've stayed involved. We have unfinished business, and I want to contribute."