O'Neal Cancer Center to welcome El-Rayes as new deputy director
Published: January 19th, 2022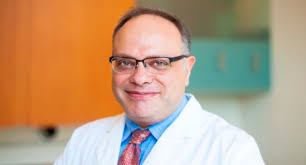 The O'Neal Comprehensive Cancer Center at UAB is pleased to announce that Bassel El-Rayes, M.D., will become deputy director, effective March 1.
El-Rayes comes to UAB from Winship Cancer Institute of Emory University, where he was the John Kauffman Family Endowed Professor for Pancreatic Cancer Research. El-Rayes served as professor of hematology and medical oncology and vice chair for clinical research in Emory's Department of Hematology and Medical Oncology, and he is a nationally leading clinical investigator in gastrointestinal malignancies and pancreatic cancer. El-Rayes is currently the principal investigator of several extramurally funded clinical trials and has an R01-funded translational research program focused on pancreatic cancer and pancreatic neuroendocrine cancers.
"We are thrilled that Dr. El-Rayes will be joining the O'Neal," said O'Neal Cancer Center Director Barry P. Sleckman, M.D., Ph.D. "His leadership experience at the Winship Cancer Institute and in clinical research brings an important new dimension to the O'Neal and our senior leadership. We feel very fortunate that Dr. El-Rayes has agreed to become the next deputy director, and we look forward to working with him as we continue to pursue our mission of advancing our understanding of cancer to improve prevention, detection, treatment and survivorship for all people."
At Emory's Winship Cancer Institute, El-Rayes served as both the medical director of the clinical trials office and the associate director for clinical research. In these roles, he restructured the clinical trials office and processes, leading to an increase in accruals to therapeutic trials, from 300 to 1,000 patients per year. Moreover, he contributed to their Phase I Program and developed approaches to engage patients at affiliate hospitals in clinical trials.
El-Rayes said he is excited about the exceptional opportunity this position provides to impact cancer care in Alabama and beyond through advancing new therapies, training future thought leaders and addressing health disparities. His priorities as deputy director will help further establish the O'Neal Cancer Center as the premier destination for cancer care in the state of Alabama.
"My main priority at the O'Neal will be to ensure that we have world-class cancer care in Alabama and that no patient will have to travel out of state for access to state-of-the-art cancer care," El-Rayes said. "To achieve this, we will need to continue to develop our highly specialized multidisciplinary clinical care, as well as our robust clinical trials program that provides patients with access to promising new therapies."
El-Rayes will fill the position previously held by Ravi Bhatia, M.D., who stepped down from the role of deputy director on Dec. 31, 2021, to focus his attention on laboratory research. El-Rayes will also serve as the director of the Division of Hematology & Oncology in the Heersink School of Medicine's Department of Medicine.
"I am extremely excited to be part of the impactful work being done at UAB," El-Rayes said. "In addition, I have been very touched by the warm welcome I have received from the community at UAB and Birmingham. I already feel I am at home and look forward to being part of this outstanding university and city."