Patient saw breast cancer treatment as taking charge of her future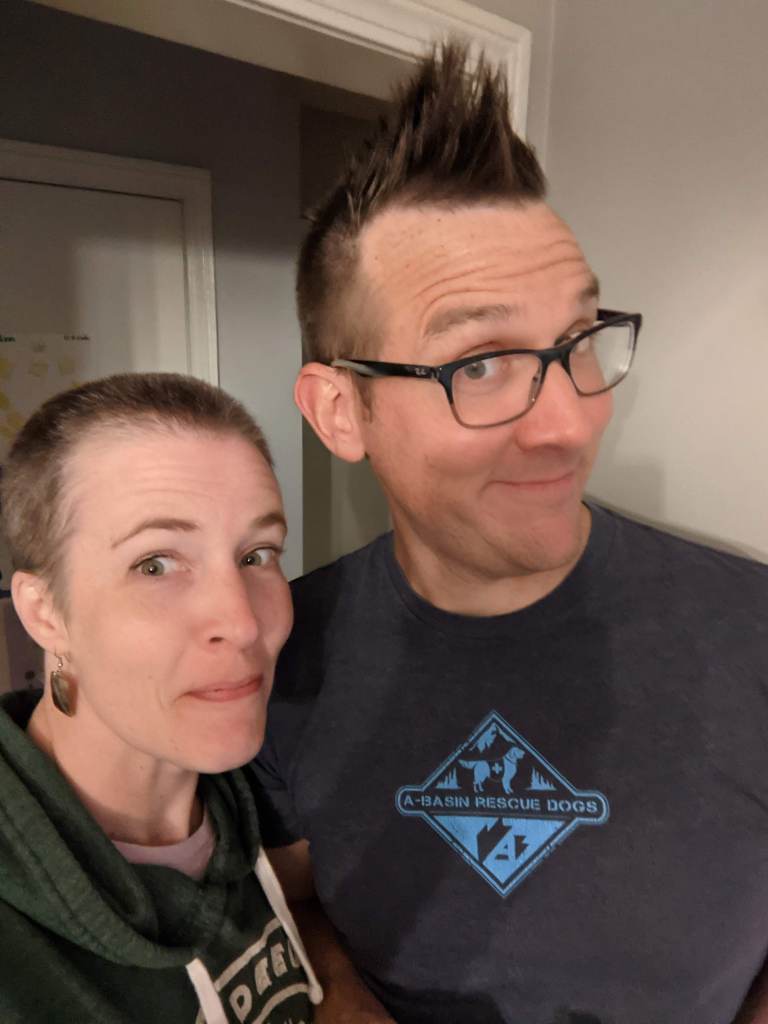 Over 240,000 people are diagnosed with breast cancer every year, and there is not one kind of patient with breast cancer. Because the disease is so common and evolves silently, women should be watchful – even before routine mammograms are recommended.
Kelly Klehm learned that early diagnosis can empower you to take charge of your health. As a younger-than-average patient with breast cancer, she faced each breast cancer treatment milestone at the O'Neal Comprehensive Cancer Center at UAB during a one-year period while also managing motherhood, work, and wellness. Her journey presented unique psychological and physical challenges that inspired her to receive and offer support to other survivors.
Early diagnosis of breast cancer puts the stats in your favor. According to the Centers for Disease Control and Prevention, the five-year survival rate for early stage breast cancer that has not spread is 98%.
Klehm found a lump in her right breast in late 2020. "I faced the reality head on," she said. "I knew very well that this could be cancer, and I wrote in my journal, 'Found a lump in my right breast – it's obvious.'" Age 39 at the time, Klehm had a 3-year-old son and wasn't due to start receiving mammograms until age 40. "I hate to think about what would have happened if I would have shrugged it off and not had it checked."
Giant steps for health
Klehm called her UAB Medicine gynecologist first, just so she could talk with someone she trusted. She was referred to the UAB Breast Health Center for a mammogram, which was followed by a biopsy and confirmation of stage 2 cancer, which is an early stage when it had not spread to other parts of the body.
When Klehm told her younger sister, she was rattled by the news, but Klehm calmly told her that there was a "clear process that I just need to follow to take care of this," she said. Coincidentally, she had been reading a book for her work at the Family Justice Center about the science of hope. Although she had been studying it to serve victims of domestic violence, it became part of her own mindset for approaching cancer. "It boils down to this: I believe my future can be better than my reality is now if I face it," Klehm said. "I just have to make sure I do what is necessary now to make sure it gets better."
The O'Neal Comprehensive Cancer Center at UAB designs care plans that are individualized for each patient. However, knowing that you are receiving the most advanced care does not always make it easier to digest. Klehm's plan included chemotherapy, a mastectomy, and possible radiation. "Chemo was the first thing that I kind of dreaded," she said. "I thought about losing my hair, being unable to work, and unable to play with my son – you have no idea how differently each person might respond to chemo."
Strength in relationships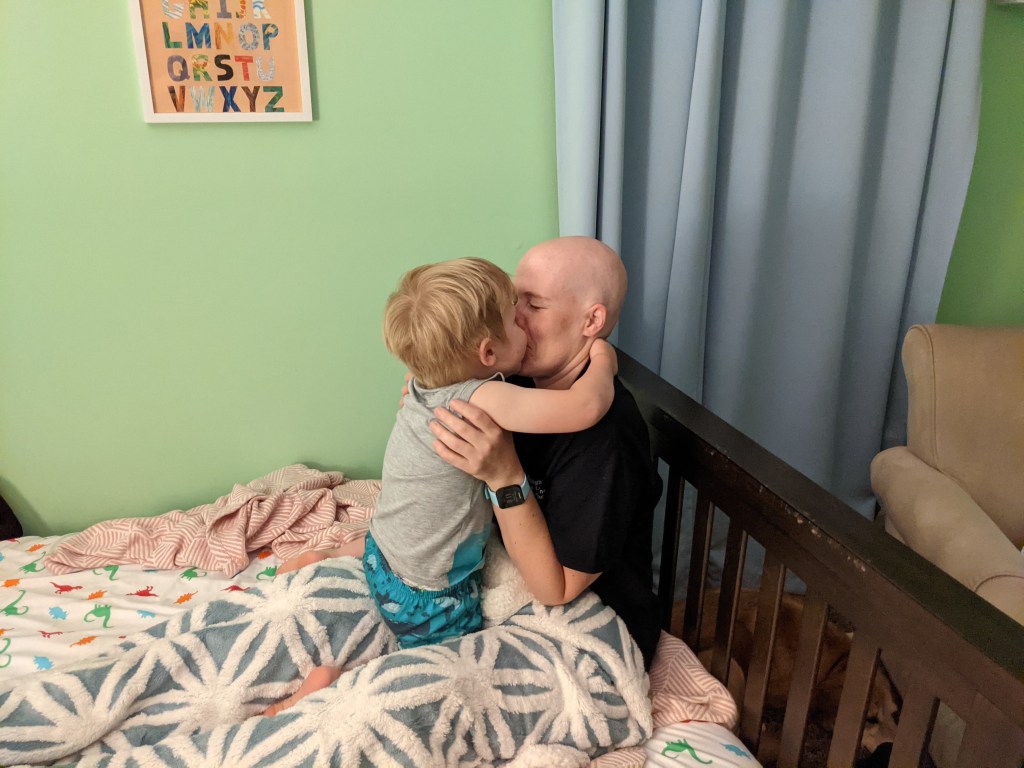 Klehm prepared her young son with the facts as she saw them and with honest language he could understand and process. "I didn't want him to see it as something happening to me, hurting me, but I wanted him to see it as something I was taking action to make better," she said. Prior to her chemo, they had a family head-shaving party. They had friends over, and her husband shaved his head into a mohawk to share in the fun. "I have a picture of me giving my son a kiss on the head, putting him to bed after the party. I'm glad we have shared this experience as a family in an honest and hopeful way."
Diagnosed in January 2021, Klehm began her treatment in late February and underwent two rounds of chemo. Each round is several weeks of consistent treatment, followed by a break. "Physically, it was not as debilitating as I thought it would be," Klehm said. "There was some extreme fatigue, but I only had to take a few days off from work." She completed chemotherapy in May 2021, and her doctors prepared her for surgery.
Klehm had made a point to connect with her doctors, especially her oncologist, Erica Stringer-Reasor, M.D. "A good doctor-patient relationship is a two-way street: You have to show them your personality and ask questions and open up about your life," she said. "I remember one day Dr. Stringer joked that maybe I shouldn't tell my husband how smoothly it was going so I could get more sympathy at home – have him do extra laundry or something. It mattered to me because it started feeling like something I didn't have to dread."
Klehm met and connected with numerous providers during her treatment. She received pre-chemo snack tips from nurses, enrolled in a clinical study, asked questions through the online patient portal, met with surgeons and plastic surgeons, and received massage therapy and physical therapy as part of the O'Neal Comprehensive Cancer Center's support services. She believes her efforts to openly communicate improved her care experience.
Challenges before and after surgery
Self-image is not necessarily the first thing that crosses someone's mind when diagnosed with cancer. But preparing for a mastectomy involves weighing the risks and personal benefits of having breast reconstruction surgery. "Reconstruction or 'flat?' And then, what kind of reconstruction out of a half-dozen techniques? It was a stressful decision in an already stressful time," Klehm said. "It was the second overwhelming moment, and just seeing all of the before and after pictures and hearing the options was a lot."
Klehm consulted friends, doctors, and other survivors. There was not one right answer. The mastectomy itself went well, and she only missed two weeks of work. Tissue expanders were put in as part of her mastectomy in preparation for reconstructive surgery, but she had them removed weeks later when she decided against it. "I had taken some time to do more thinking and meanwhile felt a lot of discomfort from the expanders," she said.
Another challenge followed surgery, however: She needed radiation after all. Her oncologists were not comfortable with the margins of tissue removal they were able to achieve, and they said radiation would help ensure that all cancerous tissue was eliminated. Radiation was more intensive than chemo but also faster per session; she had treatments every day for 4-6 weeks, concluding in October 2021. "I could schedule it around work, and it didn't really interrupt life much," Klehm recalled.
As one final challenge to her philosophy of hope-driven action, Klehm found out that she had the BRCA gene, which dramatically increases the risk of breast cancer and several gynecologic cancers. In January 2022, Klehm had hysterectomy as a precaution. Her sister recently had the same surgery.
Settling in to survival
Klehm is settled in to twice-per-year checkups, alternating between her oncologist and breast surgeon. Cancer does not affect her everyday life activities anymore, but being a survivor is part of her story.
"I had the notion that survivor groups were for people to list all the bad things going on with them," Klehm said. "But someone I knew socially worked at the Forge Breast Cancer Survivor Center and told me about their new, young breast cancer support group. It was good to meet people my age, people with kids and jobs and cancer. The group reminded me that I wasn't alone in my experience. There were so many gracious and life-loving people involved." Through Forge, she's also participated in ongoing survivor journaling classes via Zoom.
Klehm also participates in the UAB Medicine Cancer Patient and Family Advisory Council, which provides UAB Medicine leaders with valuable feedback and insight from patients and their families regarding the planning, design, and delivery of cancer care.
Klehm encourages people to be part of their own care team and to take advantage of advances in screening and prevention. "There is no stereotypical person who gets breast cancer," she said. "It is up to you to use genetic testing, self-exams, and scheduled mammograms to give yourself the best future."
Click here to learn more about the O'Neal Comprehensive Cancer Center's approach to breast cancer care, which includes prevention, diagnostic testing and screening, treatment, and healthy survivorship.