Striking back at blood cancer, Curles resumes her grandmother duties
Written by: Katherine Bradford
Media contact: Yvonne Taunton
When Beth Curles was diagnosed with a rare blood cancer in 1997, she notified only her close family. As an elementary school teacher in a small town in Georgia, she worried her community might stigmatize her diagnosis and treat her differently. For more than 15 years, she quietly battled her disease, until she was brought to the Center for Clinical and Translational Science's Clinical Research Unit based at the University of Alabama at Birmingham.
Curles was 47 years old when her routine bloodwork revealed that she had a blood cancer, scientifically known as polycythemia vera, that causes the bone marrow to make excessive red blood cells. For Curles, it meant an abnormally enlarged spleen that was clearing more blood cells than normal, a condition called splenomegaly. Initially, she treated this locally with physician-prescribed drugs.
However, over time, her diagnosis progressed from polycythemia vera to myelofibrosis. In 2018, Curles' hematologist told her it was time for greater intervention and recommended a visit to UAB.
After careful examination, the doctors told her that a stem cell transplant was not possible because of how enlarged her spleen was. But they did not stop there; the doctors guided her toward a promising clinical trial.
The two-phase clinical trial for a drug called KRT-232 navtemadlin was led by Pankit Vachhani, M.D., assistant professor of medicine in the UAB Marnix E. Heersink School of Medicine Division of Hematology and Oncology, associate scientist at the O'Neal Comprehensive Cancer Center at UAB, and a leukemia expert. Curles connected with him, and after considerable deliberation, she knew she wanted to participate.
"I wanted life. I had two young grandchildren that I wanted to see grow up and a wonderful family I wanted to be here for," she said.
Curles enrolled in the trial in 2019 and received incredible support from friends and family, especially her husband, Tom, and sisters, Ruth and Becky. Beth's daughter, Betsy, encouraged her mom to share her diagnosis and journey publicly so she could get the support she needed.
Curles and her husband would drive to Birmingham to the CCTS CRU, where all her testing and treatments were administered.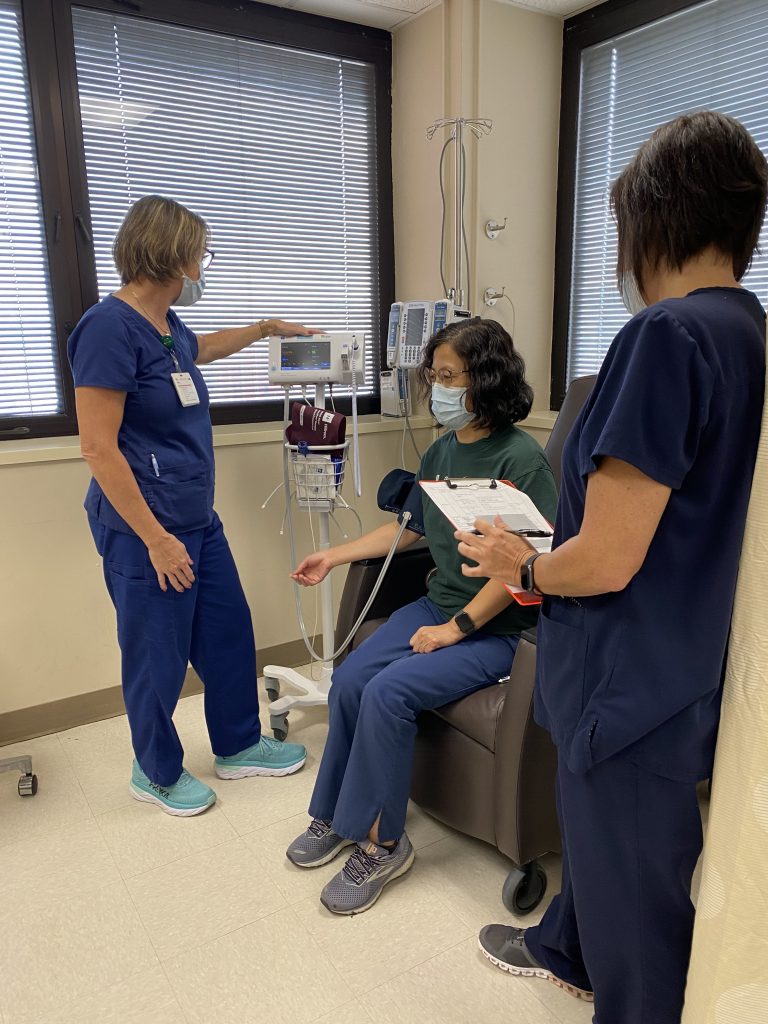 "I cannot say enough good things about the hospital and the Clinical Research Unit team," she said. "The nurses — they truly care. They must not enjoy the unpleasant things they sometimes see, but they must love their jobs to do such amazing work."
Throughout her treatment, Curles worked hard to maintain a healthy diet, exercise and follow all of Vachhani's instructions. She experienced hard days in her trial, but she kept showing up and pushing through.
Her perseverance resulted in her feeling noticeably better and experiencing major improvement in her quality of life. Her spleen and symptoms decreased significantly, and therefore, in September 2020, after carefully weighing the costs and benefits, Vachhani stopped Curles' treatment.
In February 2021, Vachhani finally told Curles she had achieved significant clinical improvement, reducing her enlarged spleen.
Curles remains in excellent control to this day, still yielding her grandmother-energy, which was part of her original goal for clinical trial participation.
"Now I can help my daughter and son-in-law with my grandchildren," Curles said. "I can be there for my family. Dr. Vachhani and this clinical trial have changed my life."
The CCTS Clinical Research Unit provides investigative teams a research environment and a broad range of services guided by good clinical practice. This contributes to the conduct of excellence in clinical and translational research. Learn more here.