Study: Potential therapeutic target identified to treat melanoma
Written by: Tehreem Khan
Media contact: Yvonne Taunton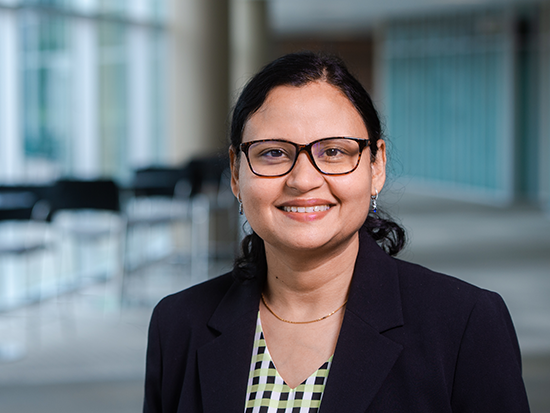 Melanoma is a highly aggressive skin cancer that frequently metastasizes, but current therapies benefit only some patients. Finding new ways to treat melanoma and other cancers is crucial because of the high prevalence of acquired resistance to currently used therapy for treating patients.
University of Alabama at Birmingham researcher Romi Gupta, Ph.D., assistant professor of biochemistry and molecular genetics, and colleagues found that CDC7, which is a highly conserved cell-cycle regulator with an important role in DNA replication, is overexpressed in melanoma, and patients with higher expression have shorter survival. Their work further revealed that CDC7 promotes melanoma tumor growth, and its inhibition blocks melanoma growth by promoting cell cycle arrest, senescence and apoptosis.
Gupta and colleagues further used a chemical genetics screen with epigenetic inhibitors that revealed stronger melanoma tumor growth inhibition when CDC7 inhibitor XL413 is combined with the EZH2 inhibitor GSK343 or BRPF1/2/3 inhibitor OF1. Mechanistically, they found that XL413 in combination with GSK343 or OF1 synergistically alters the expression of several tumor-suppressive genes, leading to higher apoptosis than the single agent alone. These findings suggested that the administration of XL413 in combination with GSK343 or OF1 could be a superior therapeutic approach for melanoma.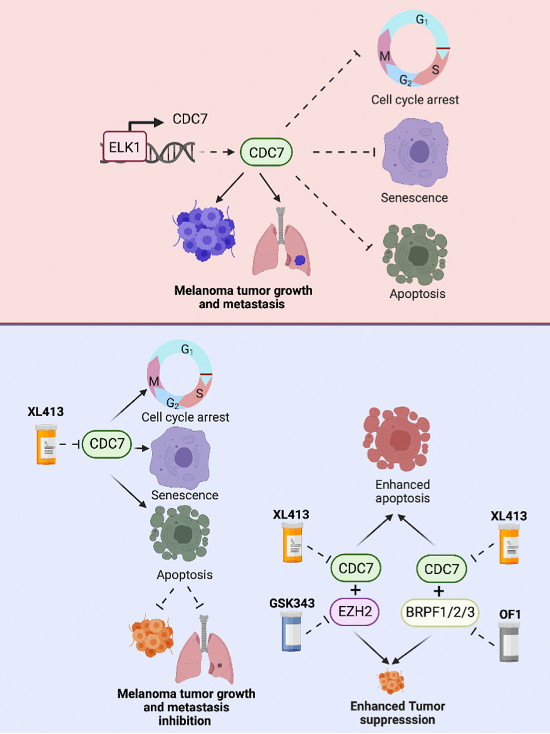 These results identify CDC7 as a driver of melanoma tumor growth and metastasis that can be targeted alone or in combination with EZH2 or BRPF1/2/3 inhibitors.
"Our results suggest that CDC7 might be a pharmacologically tractable drug target for melanoma therapy," Gupta said. "This new treatment option will help patients with melanoma and improve the overall quality of life for these patients."
According to Gupta, her findings may also be applicable for treating other CDC7-driven cancers such as lymphoma, liver cancer, pancreatic cancer, ovarian cancer and triple-negative breast cancer as well.
Co-authors with Gupta for the study, "Co-targeting of specific epigenetic regulators in combination with CDC7 potently inhibit melanoma growth," are Suresh Chava, Suresh Bugide and Parmanand Malvi, UAB Department of Biochemistry and Molecular Genetics.
Support came from grants from the National Cancer Institute and National Institutes of Health.