Surviving Lung Cancer: Meet Steadman Harrison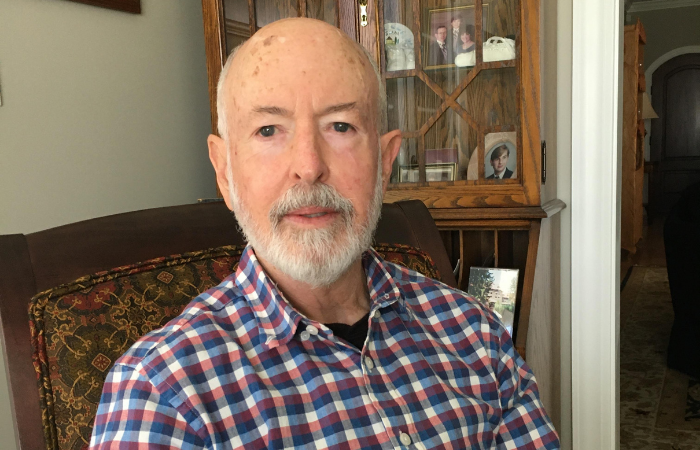 UAB Medicine patient Steadman Harrison is a one-year cancer survivor. He says that his cancer journey has been a lesson in patience, the value of family support, and personal faith.
After being diagnosed with lung cancer, Harrison came to UAB for treatment under the care of Aparna Hedge, MD, at the O'Neal Comprehensive Cancer Center at UAB. Due to the size and location of the tumor, surgery was not an option. Harrison underwent a series chemotherapy and radiation treatments for several weeks instead, and is now receiving immunotherapy maintenance with complete resolution of his initial symptoms.
Harrison shares his experience in the following Q & A.
What was your life like before you came to UAB Medicine?
Anxious. I had been diagnosed with non-small-cell lung carcinoma (NSCLC) in Tupelo, Mississippi, and I had determined, following a local referral by a pulmonologist trained at UAB, to come to UAB for treatment. I had no idea what to expect.
How/why did you choose UAB Medicine for your care?
I had spent 15 years at nearby Southern Research Institute and had interacted with various UAB programs and labs. I knew the quality and excellence that was available at UAB from faculty and staff. In particular, I knew the level of excellence at the UAB Cancer Center and associated facilities.
How did you feel when you received your diagnosis?
I felt the way all cancer patients feel: speechless, in denial, shocked. My wife is today a 20-year breast cancer survivor, and I had already walked through the shock of a cancer diagnosis with her. I have taught young people the fundamentals of cancer biology and cancer treatment, but I was unprepared to learn that I, a never-smoker, had a golf ball-size smoker's tumor sitting in my upper right lung.
What are the most important lessons you've learned from this experience?
Patience. I tell the patients I coach that cancer diagnosis and treatment are a long, multistep process, and that there are no one-stop solutions or fast answers. Having this experience, in part, during the Covid-19 pandemic has required more patience.
Why should someone choose UAB Medicine for health care?
A patient should choose UAB for the advantages that a university medical center, which emphasizes teaching and research as the foundation of patient care, offers them. Most patients make choices based on convenience, not realizing that the quality of care and the adherence to standards of care, especially in oncology, vary widely from community to community. My wife and I drive over two hours from Northeast Mississippi to Birmingham. Making this decision before getting some unexpected diagnosis will reduce the sense of inconvenience.
What surprised you most about UAB Medicine, your experience, your care team, or your treatment plan?
I was surprised, gratified, and deeply relieved by the cooperation among team members and Kirklin Clinic units to give me confidence in the level of attention I was receiving. A patient's confidence in her or his health care team is a major influence on the satisfaction a patient will experience.
What were your perceptions of UAB Medicine before you became a patient? What are they now? How did they change? Biggest surprise?
I'm an unusual patient with regard to being already familiar with UAB. My brother, a retired pathologist and an invaluable resource and support to me early in this process, was less familiar with UAB, and I often reflect on his surprise to find state-of-the-art science and medicine available at UAB. My own expectations were met and exceeded, for which I am profoundly grateful.
What have you learned since your diagnosis or since your treatment or recovery?
First, I've learned to trust radiation therapy in a way that previously I did not. In fact, I came to my treatment plan deeply biased against radiation therapy because of the possible side effects. But when my tumor was found to be inoperable, I had no choice but to submit to radiation and chemotherapy. That combination, but especially the well-focused radiation therapy under the direction of Dr. M.C. Dobelbower, was important in achieving the clinical outcome in my case. Second, I'm learning that recovery takes a remarkably long time, not weeks but months. That's another reason for patience, patience, patience.
What is your outlook for the future?
Since my one-year anniversary and remarkably clear PET scan in September, I am embracing for the first time the notion that I may achieve a prolonged progression-free survival. Historically, lung cancer patients experience recurrence and disease progression. Cancer biology tells me that beneath the sensitivity of my PET scan may lurk a microscopic reality that is quite different from what I would want. We are using immunotherapy as a maintenance approach to address that, and I am optimistic that my life can be extended.
What do you think others should know about UAB Medicine?
It's available. It's accessible. It's a user-friendly choice that will be a preferred option for the informed patient. For the patient who is uncertain, I suggest depending on a patient advocate to help navigate the transition to greater comfort with the UAB system.
Who is/was your most important support person or group?
I was blessed with different people for different roles. My wife of 51 years is my help and companion. My brother was an invaluable sounding board for the technical interpretation and decision-making steps I had to take. Hope Lodge provided a place for my wife and me to live in Birmingham for the seven weeks of my primary treatment. And I learned early to depend on a global network of more than 100 family, friends, former colleagues, and folks active in mission work to pray for my family and me as we moved through treatment and recovery.
Why are you willing to share your experience?
I'm a life-long learner and teacher, and I've learned over the years how numbing a cancer diagnosis can be, how mystifying the jargon can be, and how hopeless a cancer patient can feel. I feel privileged to let my experience encourage someone who may be desperate for a little light in a dark room.
How does your experience reveal what UAB Medicine is all about?
UAB Medicine is all about multidisciplinary teamwork bringing state-of-the-art science and medicine to patients in need. Surgery, radiation therapy, chemotherapy, and immunotherapy, with a myriad of laboratory, imaging, and other support (including basic science disciplines at Tumor Board) collaborated to give me the best chance of a disease-free, progression-free survival.
Favorite quote to live by?
Notwithstanding my scientific background, and realizing that the God I trust uses all aspects of medical endeavor for my benefit, I live by the admonition "Trust in the Lord."
What inspires you?
I have three grandsons. They have challenged me to be strong in all that I do. There have been many times since my diagnosis that I would wonder whether I could take the next step, make the next visit, run the next lap. Picturing them (two of them live in Ethiopia) has been a source of strength when I've felt weak.
What was the most challenging part of your experience or health care journey?
Waiting. I don't wait well. I'm thinking mostly about waiting for ongoing treatment to demonstrate a meaningful therapeutic effect. Then waiting for recovery to continue. My UAB care team has been enormously encouraging in this regard. And let's not forget that in the middle of my past year we had to impose Covid-19 pandemic restrictions, a real challenge for all of us.
—Steadman Harrison
Lung Cancer Survivor, One Year