Thanks a Million
By Kendra Carter
Shane and Julie Hill are entertainers at heart.
The couple has thrown an annual shrimp boil in the spring of each year for the past 20 years, first at their home and later offsite at Cahaba Brewing Co., as a way to bring friends and family together to celebrate the upcoming summer.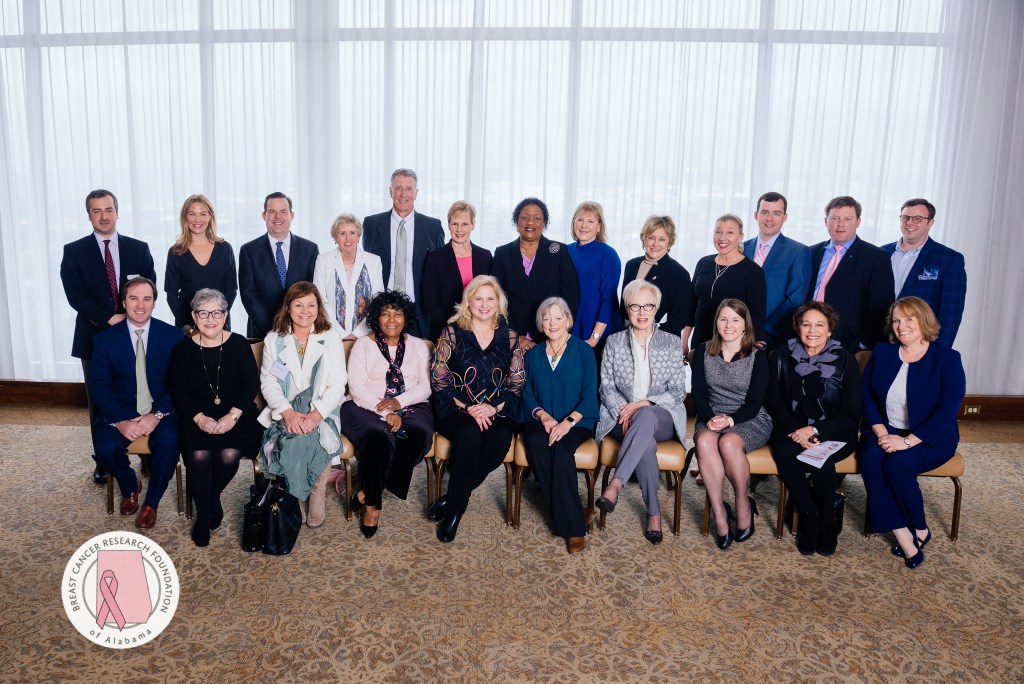 After Shane's late mother Virginia was diagnosed with breast cancer in 2004, the couple decided to use the annual party as a way to raise money for breast cancer research. They've donated proceeds — their guests make donations of between $25 to $100 — from their event to the Breast Cancer Research Foundation of Alabama for the past 13 years.
This year, the couple donated about $8,000. Their passion for generously supporting BCRFA is shared by many individuals throughout the Birmingham metro area and across the state.
"There are incredible people in Alabama whose lives have been touched by breast cancer, and they want to use those experiences and their passions to help make a difference in breast cancer research for our state, our region and our world," says Beth Bradner Davis, BCRFA executive director. "The BCRFA plays an integral role in breast cancer research at the O'Neal Comprehensive Cancer Center at UAB, and we're able to accomplish that because we have strong community support."
Davis and other BCRFA leaders presented a landmark, $1 million donation — its largest ever — to the O'Neal Comprehensive Cancer Center in January 2019.
Since its founding in 1996, the BCRFA has made an annual donation to research with proceeds from all of its fundraising efforts during the prior year, including sales of a special breast cancer research license plate, BCRFA events, and individual and community support. Their milestone donation brings the group's cumulative total for breast cancer research at UAB to more than $8.7 million.
"As a breast cancer survivor myself, I am thrilled that we are able to invest $1 million in life-saving breast cancer research this year," says Jill Carter, BCRFA board president. "Without the support of our sponsors, donors and community partners, this record-breaking donation would not be possible."
Running for a Cure
Breast cancer is the second most common cancer diagnosis in American women. It is the second leading cause of cancer deaths in women, a fact people like Amy Stevens know too well.
Amy lost her mother, BCRFA co-founder Dolly O'Neal, in 2015 after O'Neal's lengthy battle with breast cancer. So three years ago when the BCRFA decided to form a Junior Board of Directors, Amy knew she wanted to be involved.
As president of the Junior Board, Stevens leads the group, comprised of 11 young people ages 25 to 40 who are passionate about breast cancer research. In its first two years, the Junior Board's signature event, the Pink Up the Pace 5K, has raised more than $40,000 for BCRFA to invest in research. Pink Up the Pace 2019 was held Saturday, April 27, at Crestline Elementary Field, featuring fun for the whole family with food, drinks, activities, and live music.
"We wanted to create an event that you don't have to get a babysitter for," Amy says. "It's a great, family-friendly afternoon that has something everybody can enjoy. We had an incredible turnout with more than 250 at this year's race, and I think our event will continue to grow each year."
Amy's husband Johnathon also decided to combine his passions for running and for BCRFA, but he took it a few steps—and about 97 miles—further.
Johnathon used the 2018 Leadville Trail 100 Run, an ultra-marathon held each August in Colorado, as a means to raise money for, and awareness of, BCRFA within the community. An avid runner, Jonathan says he trained for the 100-mile run — which runners must qualify for and complete within 30 hours — for about six months.
Together with his coworker Eddie Thomas, Johnathon completed the venture in 28 hours, and through sponsorships and support he garnered, he was able to contribute about $38,000 to breast cancer research.
"Running the Leadville 100 was something I wanted to do, and I thought it would be a great way to bring attention to the work BCRFA does and the impact this great organization has on breast cancer," Johnathon says. "I know for some people, it was their first time hearing about BCRFA, and I hope they learned a lot and can see how its research-driven mission distinguishes it from other breast cancer organizations."
Amy says she's blown away by the spirit and passion people across Alabama put into raising awareness for BCRFA and says her mom would be as well.
"Her not being here is the most bittersweet part to me,"Amy says. "She worked so hard to establish BCRFA and advance cancer research at UAB. I wish she could have been here to see the $1 million check presented to the Cancer Center."
Parties with Purpose
All the BCRFA community fundraising events have personality directly reflecting the interests of the organizers: BCRFA's Pink Palace Casino Night, Gardendale Youth Football Association's Charity Bowl scrimmage, the Bow Hunters of Alabama's Bow-Up Against Breast Cancer 3-D Archery Tournament and the Heart of Dixie Harley-Davidson's Revvin' 4 Research Charity Ride.
And for Eric Meyer, beer and barbecue.
Meyer, owner and founder of Birmingham's Cahaba Brewing Company, started the annual CahabaQue barbecue competition seven years ago after a fellow Mountain Brook firefighter was diagnosed with breast cancer. He says his colleagues at the fire station were already supporting BCRFA and he wanted to find more ways to support the group.
"By that point, I had already opened Cahaba, and I thought a barbecue competition to raise money for them would be a fun, unique event in Birmingham," Meyer says.
Teams cooked up pounds of pork butt to compete as Birmingham's best backyard barbecue, and Meyer says participants served other foods like Thai barbecue tacos, wings, greens and fried Oreos. He said this year's CahabaQue raised $26,000 for BCRFA from ticket sales, team registrations and new support from corporate sponsors.
With more attendees and more teams added each year, Meyer says CahabaQue will be an annual event for years to come.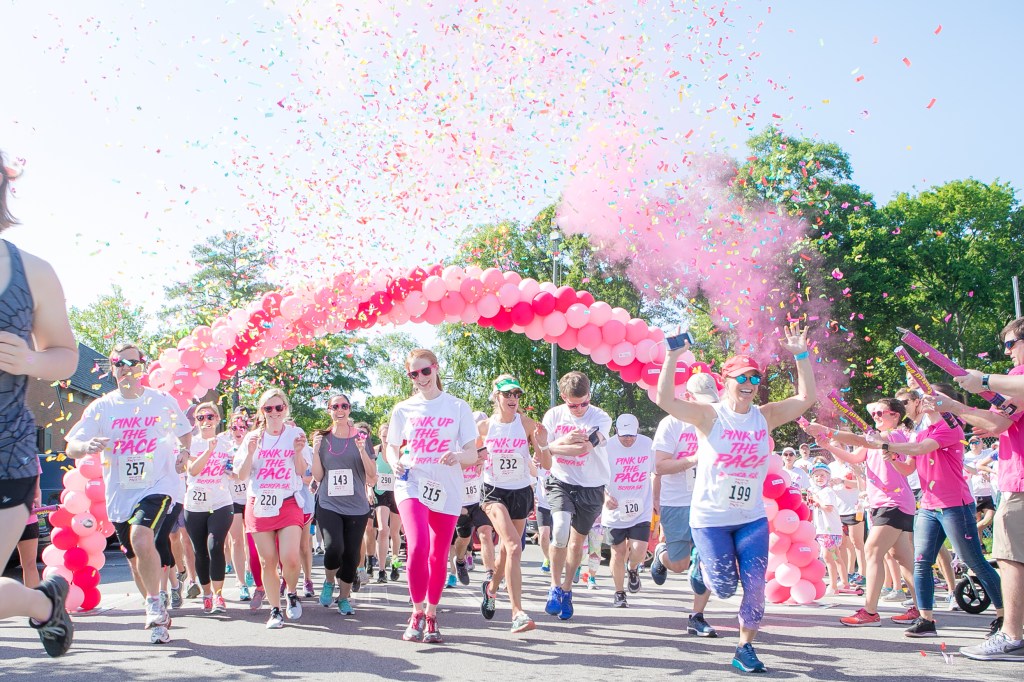 "I think we'll continue hosting it for as long as people want to come out for it," Meyer says. "I don't see any reason to stop until BCRFA helps find a cure for cancer."
Cindy Jones feels the same about staying power of the annual Pink Luncheon that she and her husband Steve host at their business, MSE Building Co., Inc., in October. But the friends, family and colleagues who attend know that while the luncheon might be the same every year, the theme won't be repeated.
In the past, she's hosted a luau, a low-country boil, and even a groovy '70s shindig. Cindy, a breast cancer survivor who was diagnosed 15 years ago, says she chose to throw theme parties as a way to not focus on a difficult time in her life, but to celebrate the progress being made.
"I wanted this event to celebrate life, celebrate the advancements in cures, celebrate those who lost their fight and those yet to fight, and show gratitude for the days we have," Cindy says.
She says the first event raised about $8,000 by asking guests to make a $25 minimum donation to BCRFA. Last year, it raised $70,000.
"I think the reason why people are so invested in what BCRFA does is because we all want the same thing: to find cure for breast cancer," Cindy says. "Supporting breast cancer research at UAB is a way that we're going to get closer to that goal."
Rallying the Community
Nine years ago when Kate Kiefer found the golf course near her farm in Shelby County was raising money for breast cancer groups during Breast Cancer Awareness Month, she had a proposition for them. She offered her — and other BCRFA leaders' — help in growing Timberline Golf Club's annual tournament if they would support BCRFA.
Starting there led to working with city leaders to inspire an effort across the City of Calera. The "Calera Goes Pink" initiative grew from a conversation between Kiefer and Calera Fire Chief Sean Kendrick about the fire department's T-shirt fundraiser.
I think the reason why people are so invested in what BCRFA does is because we all want the same thing: to find cure for breast cancer. Supporting breast cancer research at UAB is a way that we're going to get closer to that goal.
Calera Goes Pink has grown year over year, involving people across the city, including students from Calera Elementary School, Calera Intermediate School, Calera Middle School and Calera High School, which host events like the Pink Out football game and Pink Pep Rally, which Kiefer says teaches students about cancer research and philanthropic giving.
"The city's leadership in bringing their community together is a model for what a grass-roots fundraising effort can do," she says. "Calera shares BCRFA's passion for keeping the money raised in Alabama to support breast cancer research and we are thrilled to see so much commitment to saving lives."
Community support during 2018 included 20 Alabama fire departments that participated in the Pink Ribbon Project, selling T-shirts during October to raise funds and awareness, along with dozens of other businesses, schools, churches and individuals who used grassroots fundraising to raise money for breast cancer research.
Driving out Cancer
One of the biggest drivers of fundraising for BCRFA each year is the specialty license plate. Almost half of the $1 million donation to the O'Neal Cancer Center — a total $478,000 — was raised through support of the Breast Cancer Research specialty tag. The tag was originally launched in 2008 and redesigned in 2014 to include the BCRFA's tagline "Funding Research… Saving Lives."
Davis says the BCRFA tag is one of the top 10 of purchased specialty tags in the state, with 12,517 car tags purchased last year. Additionally 125 specialty motorcycle tags were purchased last year, and people can now also purchase a boat tag.
"The license plate has really allowed us to grow and create sustained support from thousands of people across the state," Davis says. "It's a very easy way for people to contribute toward our mission of funding much-needed research."
Kiefer says all proceeds from the car tag — about $41.25 per tag — go directly to BCRFA. One of the driving forces to launch and market the specialty tag, Kiefer says it also plays an important role in spreading awareness of BCRFA across Alabama and beyond.
"There are people from the mountains to the beach who are passionate about curing cancer," says Kiefer, a 37-year survivor of melanoma. She knows firsthand the impact of cancer research, having benefited from a clinical trial during the course of her cancer treatment.
"Cancer research is what's going to take us to the next level," she says. "We're focused on finding new discoveries in breast cancer, but it's also my hope that the more scientists learn about breast cancer, the more they learn about other types of cancer. If we can cure breast cancer, the others will fall in line."
Learn more about the Breast Cancer Research Foundation of Alabama
Share a Memory of the O'Neal Cancer Center
If you're a physician, nurse, researcher, trainee, staff member, administrator or volunteer at the O'Neal Comprehensive Cancer Center at UAB, our communications team wants to know what you think is most interesting, pivotal, or noteworthy about the O'Neal Cancer Center's last 50 years. Submit a memory in honor of the Cancer Center's 50th anniversary, and we may share it in our social media channels!