UAB Arts in Medicine offers creative ways to cope with cancer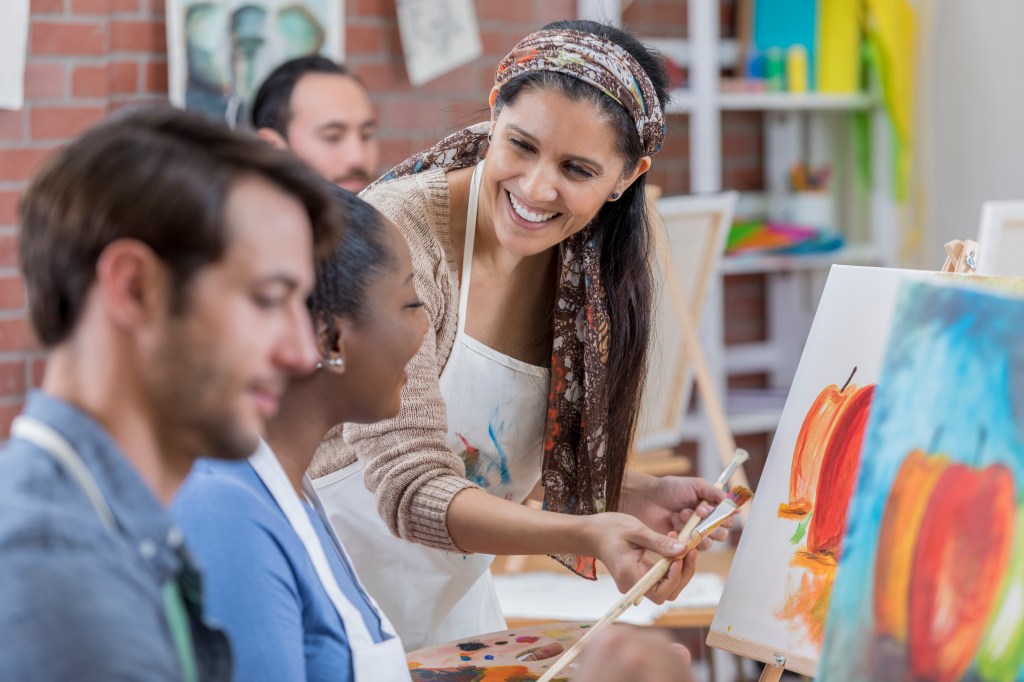 At the O'Neal Comprehensive Cancer Center at UAB, our Supportive Care Clinic connects patients with a wide range of programs to enhance their well-being during treatment and afterward. These support services include UAB Medicine's Arts in Medicine (AIM) program, which provides guidance and materials for various forms of expressive art, such as journaling, dance, and painting.
The AIM program is led by trained therapists and artists-in-residence who have a special interest in connecting with people and using creative arts experiences to help transform the care environment for patients and their family members.
The benefits
Integrating the arts into the health care environment has been shown to benefit patients and caregivers in the following ways:
Reduced stress levels
Reduction in perceived pain
Improved mood
Distraction from medical problems
Increased self-expression
Increased self-confidence
Patients who do not consider themselves artistic still may find a sense of peaceful escape, self-confidence, and community by engaging with the Arts in Medicine practitioners.
AIM Director Kimberly Kirklin, MA, said art can be beneficial to every patient – and there are no drawbacks.
"It's not about being or becoming an artist, it's about taking an artistic perspective and stepping outside of the everyday stress of a cancer journey," Kirklin said. "Cancer can become the focus of all of your life patterns, between scans, appointments, travel, medicine schedules, support groups, and counseling. It is important to find a way to engage in free expression and meaning-making."
Making art in a group has additional benefits, Kirklin said. It can open the door to casual communication that connects fellow survivors in new ways. "It's not a therapy session or support group, but our artists are trained to create a space for open conversations while we make things," she said.
What kind of art?
AIM offers the following activities at the bedside or in group workshops:
Storytelling
Painting
Hand-sewing/embroidery
Relaxation/meditation
Movement/dance
Expressive writing and poetry
Personalized art projects
Delivery of customized art kits, coloring pages, art supplies, jokes, brain games, etc.
Impact
Cancer survivor Karen Ammons has participated in AIM throughout her treatment and survivorship, practicing visual art, music, poetry, and drama.
"Arts in Medicine has helped me move beyond the medical procedures through expressing and releasing the emotional trauma that comes from a cancer diagnosis and treatments," Ammons said. "The arts further the healing powers of the creative human experience to survive. These follow-up programs through the arts helped me develop a positive attitude toward living and gave me a sense of peaceful relaxation."
Ammons also benefited from group art sessions and the social connections she made. "I could not have gotten through this devastating time in my life without the program's developers, instructors, and groups of such caring peers," she said, adding that the experience inspired her to join AIM's Healing Harmoniescommunity choir for those impacted by cancer.
How it works
AIM can help patients and their loved ones make art during visits to the O'Neal Comprehensive Cancer Center or at home during virtual group sessions. Group sessions for those with cancer are conducted via Zoom every Thursday from 11 a.m. to noon. The sessions are self-contained, so there is no pressure to attend every week, and each lesson features various arts exercises and activities geared to beginners.
Are you interested in making art at the bedside or during a clinic visit? Art supplies and private art instruction for patients and/or loved ones are available depending on the availability of different artists-in-residence.
Some patients receiving ongoing treatment have made long-term projects that they resume during each visit, such as sewing quilt pieces that are later assembled by AIM volunteers. Others may simply want to have various supplies at the ready for drawing or painting.
Connecting with AIM
Oncologists and other providers often make referrals to AIM, but patients and their loved ones can sign themselves up, too. Those requesting supplies or personal instruction are asked to provide a 48-hour notice.
Kirklin and her team are eager to help patients and family members explore any artistic interest. "If you get involved with AIM, there is a good chance you're going to find something that speaks to you and enriches your life," she said. To get started with the UAB Arts in Medicine program, please call 205-934-8275 or email artsinmedicine@uabmc.edu.