Vestavia RISE
Story by Kendra Carter | Photos by Dustin Massey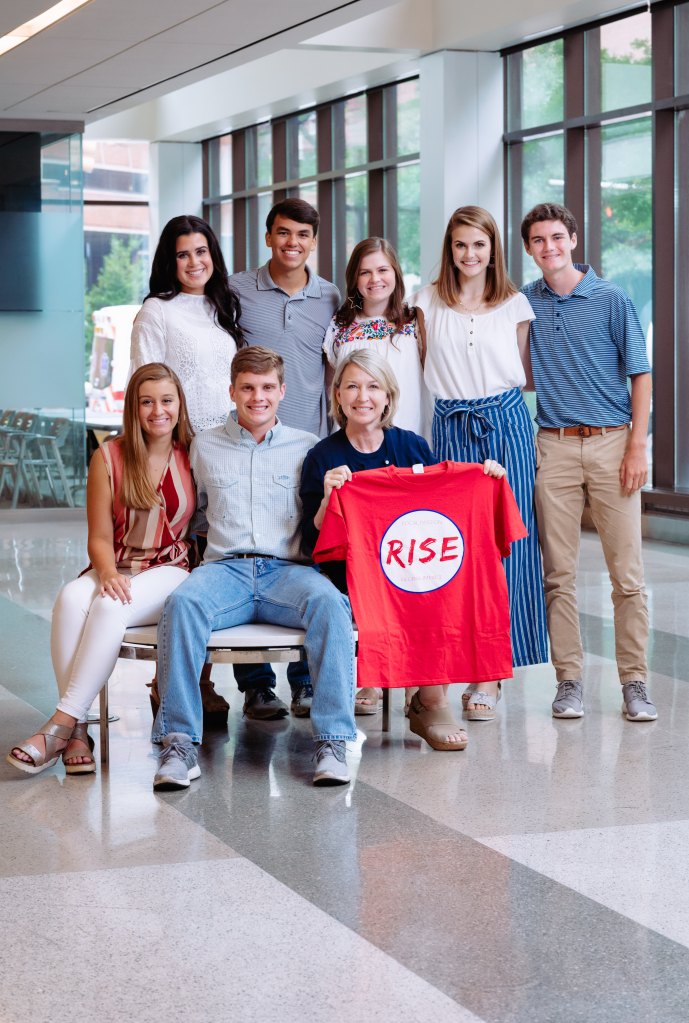 Students at Vestavia Hills High School have seen the effects of cancer on their parents, grandparents and even their classmates and teachers.
That's why students throughout Vestavia Hills High raised more than $200,000 for the O'Neal Comprehensive Cancer Center at UAB. They did it by participating in the school's Rebels Impact through Service and Engagement (RISE) program, a semester-long service learning effort promoting philanthropy and community outreach within the student body.
According to the National Cancer Institute, about 70,000 adolescents and young adults ages 15-39 are diagnosed with cancer each year. With that population come specific, specialized care needs that can be overlooked during the course of cancer treatment.
"Cancer treatment, particularly chemotherapy and radiation, can affect a young cancer survivor's abilityto have children," says Julie Wolfson, M.D., M.S.H.S., in the UAB Institute for Cancer Outcomes and Survivorship and director of the UAB-COA Adolescent and Young Adult (AYA) Oncology Program. "Fertility is a very important issue to cancer survivors. But any interventions to preserve fertility for patients must happen before treatment starts.
"We have more cancer survivors living now than ever before, and with that, we want these survivors to be able to live the lives they want after cancer treatment," Wolfson says. "Creating this program gives us the opportunity to reach across UAB and Children's of Alabama to offer more possibilities and options to AYA cancer patients."
Wolfson said the program will reach about 425 patients each year at UAB and Children's. She said the program leaders will be leading oncofertility research here locally, and by joining research consortia can collaborate with other doctors and scientists across the country to advance research in oncofertility in AYA patients and help establish standards of care.
Previous graduating classes had several students who have battled the disease, which is why giving to the AYA program was particularly important to these teens.
"To me, RISE is so special because we have the ability to engage our entire community," says RISE participant John Ingram. "I think it's very impactful that the money we raised will help cancer patients and survivors who are our age."
This year, RISE program participants raised funds through events that included a character breakfast; the Rebel 5K & Fun Run; and RISE Day, a full day of music, student activities, and community gatherings. Kym Prewitt, leadership teacher at Vestavia Hills High, said more than half the student body participated in the different events.
"We are honored the students at Vestavia Hills Highhave chosen to lend their support to the O'Neal Comprehensive Cancer Center," says Ravi Bhatia, M.D., the center's interim director. "What these students have done is nothing short of remarkable, and we're thankful that they're interested in supporting new areas of cancer research that could help many patients."
Share a Memory of the O'Neal Cancer Center
If you're a physician, nurse, researcher, trainee, staff member, administrator or volunteer at the O'Neal Comprehensive Cancer Center at UAB, our communications team wants to know what you think is most interesting, pivotal, or noteworthy about the O'Neal Cancer Center's last 50 years. Submit a memory in honor of the Cancer Center's 50th anniversary, and we may share it in our social media channels!