A Quarter-Century of Service, and Counting
Story by Joseph D. Bryant | Photos by Dustin Massey  
The Office of Community Outreach & Engagement at the O'Neal Comprehensive Cancer Center at UAB reached an important milestone this year with its 25th anniversary.
Since its inception in 1995, the office has dedicated itself to fulfilling the O'Neal Cancer Center's commitment to increasing cancer education and awareness in medically underserved populations and to addressing health disparities in the state of Alabama and beyond.
"The long-standing work of this office speaks to the heart of the mission of our Cancer Center by understanding the unique needs of our community and by bringing information, groundbreaking research and access to high-quality clinical care directly to people who otherwise might not receive them," said Monica Baskin, Ph.D., associate director for community outreach and engagement at the O'Neal Cancer Center. "Countless lives have been impacted as this office delivers essential messages of cancer prevention, detection and healthy living that are informed by ongoing communication with community residents and stakeholders."
According to research published in the Texas Heart Institute Journal and JAMA Oncology, cancer survivors are at a higher risk for other illnesses such as cardiovascular disease and diabetes, whose effects can be reduced by improving diet and lifestyle.
As the national and global footprint of its research expands across multiple states and countries, the Office of Community Outreach & Engagement has continued to develop and implement new strategies for educating those who could benefit from these lifestyle changes.
For example, Isabel Scarinci, Ph.D., MPH, senior advisor for globalization and cancer at the O'Neal Cancer Center, has brought community engagement strategies used in Alabama to her home country of Brazil. There, she has led efforts mobilizing community health workers to teach medically underserved populations about cancer prevention and healthier living.
Likewise, the work of Wendy Demark-Wahnefried, Ph.D., R.D., associate director for cancer prevention and control at the Cancer Center, has focused on promoting gardening and healthy eating habits among cancer survivors in Alabama through a partnership with the state's cooperative extension services. The program is now being replicated in other areas, including Mississippi and New Mexico.
An enduring vision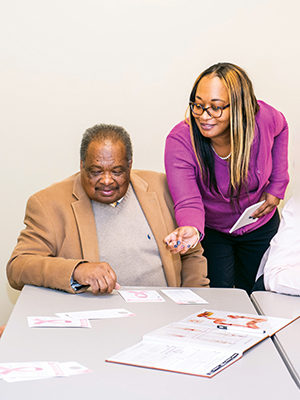 Institutionalizing community outreach as a core mission of the O'Neal Cancer Center was the vision of Edward Partridge, M.D., the Cancer Center's former longtime director, who oversaw the direction of the office until his retirement in 2017.
Claudia Hardy, MPA, was one of the first to join this organized effort in 1998 and became the office's second-ever manager to lead its daily operations.
One of Hardy's first assignments was to implement a breast and cervical cancer education program in three rural counties in Alabama's Black Belt region that would pilot test an outreach project in an urban community at the Bessemer Housing Authority.
"It helped that I was a product of a rural community, and with my understanding of rural communities, I knew how to communicate with the local residents," Hardy said.
Since then, the office has expanded its outreach focus from breast and cervical cancers to include other cancers such as colorectal cancer, lung cancer, prostate cancer, brain tumors and multiple myeloma, which is a rare type of blood cancer.
In 2018, Baskin assumed leadership of the office after she was appointed the inaugural associate director of community engagement for the O'Neal Cancer Center. Baskin brought with her to the position many years of experience in reducing health disparities, as well as an extensive professional research background.
Then, in 2019, the office was officially renamed the Office of Community Outreach & Engagement of the O'Neal Comprehensive Cancer Center at UAB in order to better illustrate its holistic role.
Serving as the model
A key component of the operation and success of the Office of Community Outreach & Engagement is its use of the Community Health Advisor model.
Community Health Advisors, or CHAs, play a vital role in connecting the O'Neal Cancer Center and its researchers to communities who are most in need of cancer-related health information. CHAs often take complex data and interpret it in ways that can be better understood by non-medical audiences.
Over the past 20 years, the office has trained more than 2,000 CHAs and has applied the CHA model in a variety of community outreach and research projects. CHAs can also receive additional training to become Community Health Advisors as Research Partners, or CHARPs. CHARPs provide a trusted, culturally competent approach to leading outreach, conducting research and engaging the public.
"The success that our office has had in engaging communities has been based largely on the relationship that our CHAs, CHARPs and local coordinators have helped us develop," Hardy said. "I'm proud of our ability to translate research and make it relevant to people."
Glenda James is among the CHA program's veterans. James, a local coordinator for Sumter County, Alabama, recalls the beginnings of the office when only a small team gathered in Sumter, Marengo and Choctaw counties to promote early detection of breast and cervical cancer. Then, the initiative was funded by the Alabama Breast and Cervical Cancer Early Detection Program.
"We were constantly on the road," James said. "It took time to build relationships and solidify trust."
Because of the success of the breast and cervical cancer program, the Cancer Center received a National Cancer Institute Special Populations Network Grant in 2000 that created the Deep South Network for Cancer Control & Prevention. Through the Deep South Network, the office built an infrastructure in both rural and urban communities that would become the flagship for outreach and community-based research programs at the O'Neal Cancer Center.
Improvements in public perception and acceptance of cancer awareness and education were hard-earned, James says.
"When I started out, women had so many myths and fears about preventive health. People wouldn't open the door or take the pamphlets," she said. "That's one of the greatest achievements, that people are now more aware. They now know that early detection does save lives."
Michael Miller, another longtime friend of the Office of Community Outreach & Engagement, recalls his early days as a CHA.
"We made some good strides and helped turn some things around," Miller said. "Nobody should die from something that could be treatable."
Miller knows the devastating effects of cancer personally. He was holding his grandmother's hand when she died from breast cancer in 1994.
"She was not ignorant to medicine," Miller said of his grandmother, Sadie Turner, who was a former nurse. "But at that time, we didn't have the advanced knowledge to tell people about screening and early detection."
Miller's work continued as a member of the office's Community Advisory Board, where he helped guide local staff and scientists on community education and appropriate delivery of research. Although he is no longer on the board, Miller still serves his community as a CHARP.
Evolving with changing needs
The COVID-19 pandemic has brought new challenges, but Hardy says it has also created new opportunities to embrace modern strategies for reaching the public.
"COVID-19 has caused us to move forward and push people out of their comfort zones, but it also exposes the disparities that still exist within some communities and in people's ability to access technology, as well as health care," Hardy said. "Our greatest challenge is to develop an infrastructure that will allow us to meet the evolution of communities today and train a cadre of diverse workers."
Meghan Tipre, DrPH, is one of the latest additions to the Office of Community Outreach & Engagement. Tipre is an epidemiologist and an expert in managing large data sets.
As a scientist, Tipre collects, analyzes and shares data to improve outreach, research and clinical care. In 2019, Tipre and Molly Richardson, Ph.D., became the first scientists hired exclusively by the office to enhance data collection and analysis, establish new partnerships and conduct independent research regarding cancer outreach and engagement.
Tipre says that the effectiveness of all work of this nature is measured by data. Data analysis, she says, helps determine whether efforts are reaching the right populations and whether those efforts are having the desired impact.
"Behind the computer, you crunch numbers, but here, you get to the see the work you are doing, how it reaches the people and how it matters," Tipre said. "It's good to see both sides of the coin and be part of both sides."
Answering the call
Most of those who work in the Office of Community Outreach & Engagement have a personal connection with cancer. Baskin lost her father to colon cancer when he was only 51 and when she was only a senior in high school. While higher education was valued in her household, Baskin recalls that her father never got to attend any of her graduations – not for high school, college or graduate school.
The office's Community Health Advisors and board members similarly tend to describe their cancer advocacy as a personal mission. Like Miller, James was inspired by a relative to fight for cancer education. Her cousin was just 32 when she was diagnosed with Stage IV breast cancer.
"She grieved a while and then wanted to know what she could do to help other women," James said of her cousin. "I will be here until I can't be here anymore – on a cane and stick – because, for me, it's the continuation of her legacy."
Looking back on her time as a CHA, James says she is most proud of the relationships that have been built and the lives that have been saved as a result of the work the office has done to engage and educate medically underserved communities in Alabama.
"I want to always make sure that, in our roles, we're straight up, we're fair and we're honest," she said. "I see this as a calling. It is needed, it is necessary and it is vital."
Learn more about the Office of Community Outreach & Engagement and check out the office's monthly newsletter.
Share a Memory of the O'Neal Cancer Center
If you're a physician, nurse, researcher, trainee, staff member, administrator or volunteer at the O'Neal Comprehensive Cancer Center at UAB, our communications team wants to know what you think is most interesting, pivotal, or noteworthy about the O'Neal Cancer Center's last 50 years. Submit a memory in honor of the Cancer Center's 50th anniversary, and we may share it in our social media channels!