CAR T-Cell Therapy
By Kendra Carter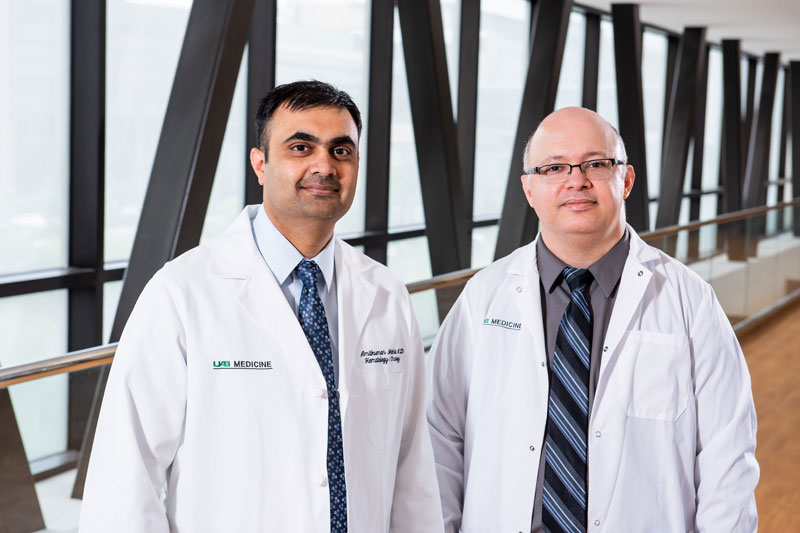 Our bodies are full of fighters. In a healthy immune system, the body is full of immune cells which are responsible for its first line of defense for killing infections.
"For years scientists knew that the immune system also keeps cancer in check," says Amitkumar Mehta, M.D., associate scientist in the O'Neal Comprehensive Cancer Center at UAB and assistant professor in the UAB Division of Hematology and Oncology. "But that concept has evolved and expanded in the last ten years, giving researchers the idea that we could manipulate the immune system to keep the cancer under control."
So what if those immune cells could be trained to fight certain types of cancer? Advances in immunotherapy—using the body's own immune system, especially
T cells—is now tested for treatment of B-cell lymphoma and multiple myeloma in clinical trials at the O'Neal Comprehensive Cancer Center. Scientists have now developed techniques to modify the T Cells so they can recognize cancer cells in a targeted way, called chimeric antigen receptor, better known as CAR T-cell therapy.
"The Essential Pillar"
Immunotherapies, like CAR T-cell therapy, are becoming the essential pillar of cancer care, joining the ranks of surgery, chemotherapy, radiation and other targeted treatments.
In the CAR T approach, a patient's T cells are collected from their blood through a process called apheresis. Those cells are then sent to a laboratory where they're genetically modified so they can express the chimeric antigen receptor protein through a viral transfection, which will target only the cancer cell.
Dr. Forero noticed the day after I received the infusion that the lymph nodes in my neck had receded a little bit. It was the magic bullet that started to fire right away.
Once the cancer cells are modified, the patient undergoing the CAR T therapy receives three days of chemotherapy treatment to prepare their bodies to accept the modified T cells.
"The chemo treatment is not targeted toward treating the cancer, but to deplete the patient's remaining T cells so their body is hungry enough to accept the modified T cells," says Mehta, associate director for the CAR T program at UAB.
When the modified T cells are then put back into the patient's bloodstream, they grow in number and attach to the target in the cancer cell for which they were developed. In the case of the B cell lymphomas, the CD19 is the target. In the case of multiple myeloma, B-cell maturation antigen (BCMA) is the target. Both targets are located on the surface of cancer cells. The binding activates the T cells and induces cancer cell death, Mehta says. Patients are monitored for several days post-therapy to watch for toxicities, and for three months post treatment to monitor their response to therapy.
The whole process, from the collection of the patient's T cells to the infusion of the patient's modified cells can range between three and six weeks, which is why Mehta says it's important for doctors to find qualified patients who are stable enough to wait for the procedure and undergo the necessary chemotherapy.
James Lacey, of Mobile — the first patient to undergo CAR T-cell therapy in Alabama — was treated successfully with CAR T therapy. Originally diagnosed with follicular non-Hodgkin lymphoma in 2007, Lacey's lymphoma had transformed to diffused large B cell lymphoma, and after years of chemotherapy, bouts of remission and several experimental therapies, the cancer was no longer responding to treatments. Lacey opted to be treated with CAR T cells by his doctor, Andres Forero, M.D.
Lacey says physicians noticed results from the therapy almost immediately, and he's been in remission post CAR T treatment for more than two years.
"Dr. Forero noticed the day after I received the infusion that the lymph nodes in my neck had receded a little bit," Lacey says. "It was the magic bullet that started to fire right away."
For Wayne Edwards, being able to tend to his flower garden and taking long walks around the lake with his grandson Barrett, has been an important development in his life post-treatment.
Edwards, a retired deputy sheriff in Montgomery County, underwent the CAR T therapy last year. He had been diagnosed with stage four non-Hodgkin lymphoma in 2013 in Montgomery, and, after a round of chemotherapy and a brief remission, Edwards' disease recurred and spread. He says treatment was ineffective at that point, so he was referred to Mehta at UAB.
After progression with another research agent, before Mehta approached him about CAR T-cell therapy.
"Dr. Mehta sat down with me and my wife Sandi to
explain the all the possible risks and benefits of the CAR T treatment with us, and I felt at that point that, really, I had nothing to lose. I figured that if it didn't help me, maybe they would be able learn something that could help another patient.
"When he told me about the T cell therapy, I was excited. It's hard to explain, but it was an amazing opportunity when I didn't have hope," Edwards says.
A Quality Approach
While CAR T is a newer method of immunotherapy, UAB has been using other cellular therapies, such as bone marrow transplants for more than 20 years. The two therapies are linked because they serve similar patient populations and require similar infrastructure, including apheresis, cell processing laboratory and dedicated inpatient and outpatient facilities, says Luciano J. Costa, M.D. a scientist in the O'Neal Comprehensive Cancer Center and director of the newly established Immune Effector Cell Therapy program.
For that reason, the leadership of UAB's Division of Hematology and Oncology created this Immune Effector Therapy group, combining the burgeoning CAR T-cell program with the existing UAB Bone Marrow Transplant and Cellular Therapies program.
Costa says that in doing so, leaders are able to develop policies, procedures and training that involves all physicians, support staff, nurses, nurse coordinators and advance practice providers to provide CAR T-cell therapy to patients.
UAB has a longstanding commitment to quality in this arena, Costa says, citing the hospital's accreditation status with the Foundation for the Accreditation of Cellular Therapy (FACT) for the past 15 years.
"This attests to our patients that UAB follows the highest standard of quality and that our processes are optimized to maximize patient safety and improve outcomes," Costa says.
The expansion of this cellular therapy team and the commitment to accreditation standards will help UAB in offering CAR T-cell therapy to patients with other cancers, Costa says. The Bone Marrow Transplant-Immune Effector Cell Therapies Program is also in process for certification for treating patients with commercial products (CAR T-cell treatments that have successfully completed clinical trials and received FDA approval). Mehta says this commercial certification would mean patients with certain B cell aggressive lymphomas would be able to be treated with CAR T-cell therapy as standard of care like all other cancer treatments—a move that could be finalized in the coming months.