Introducing the O'Neal Comprehensive Cancer Center at UAB
By Kendra Carter | Photos by Steve Wood and Dustin Massey
The O'Neal family knows the devastating effects cancer can have on patients battling the disease and their loved ones.
"Our family, as well as the families of our friends, colleagues and employees, have experienced the heartbreaking consequences that can accompany a cancer diagnosis," Craft O'Neal says. " Together our family was motivated by the opportunity to play a role in extending the lives of those with cancer in the region, while honoring our family members who have been afflicted by the disease."
That's why O'Neal Industries, Inc., the family's global business based in Birmingham, and its shareholders have given the largest single gift in the University of Alabama at Birmingham's history — a $30 million donation to the Comprehensive Cancer Center — which will allow the center to change the lives of more patients and families through transformational cancer research, patient care, education and prevention.
"We see this gift as an opportunity to give back in a meaningful way to a cause that is important to everyone," says Craft O'Neal, chairman and CEO of O'Neal Industries. "We hope the gift will be used in ways that will yield the greatest results, accelerating progress in research, treatment and prevention of cancer and, ultimately, eliminate cancer as a major public health problem."
The center will be known as the O'Neal Comprehensive Cancer Center at UAB.
"This truly transformational gift will have a far – reaching impact on cancer research and patient care in our community, state and region," says Michael J. Birrer, M.D., Ph.D., director of the O'Neal Comprehensive Cancer Center. "This endowment will help us further establish the Cancer Center as the preferred destination for cancer care in the Southeast; drive cancer research initiatives; and create a stronger clinical trials infrastructure and increase clinical trial access to underserved populations.
"We will also aggressively recruit top physicians and researchers from across the globe and continue to train the next generation of physicians and scientists, creating a robust operation that will propel the Cancer Center to new levels of success," Birrer says.
A Family Tradition
Kirkman O'Neal, who in 1921 founded the company that would become O'Neal Industries, believed it was the company's responsibility to have a role in improving the quality of life of its community. This is a principle that Kirkman's children, grandchildren and great – grandchildren continue to embody in their communities.
I hope each of our employees, loyal customers and supportive suppliers will take pride in this gift, because without their contributions to our success, we would not be able to give back in such a meaningful way.
The company and the O'Neal family have a deep history of philanthropy with UAB. Craft O'Neal is a longtime member of the cancer center's Advisory Board, and over the years, O'Neal Industries and family members have supported schools and departments across UAB, including the Cancer Center, the Collat School of Business, the Department of Neurology, the School of Nursing, the Comprehensive Diabetes Center and UAB Athletics.
My grandfather's and father's generations of O'Neal employees laid the foundation for the success we enjoy today," O'Neal says. "This success enables us to give back in all the communities in which we are located, and do even bigger things here at our headquarters in Birmingham. I hope each of our employees, loyal customers and supportive suppliers will take pride in this gift, because without their contributions to our success, we would not be able to give back in such a meaningful way."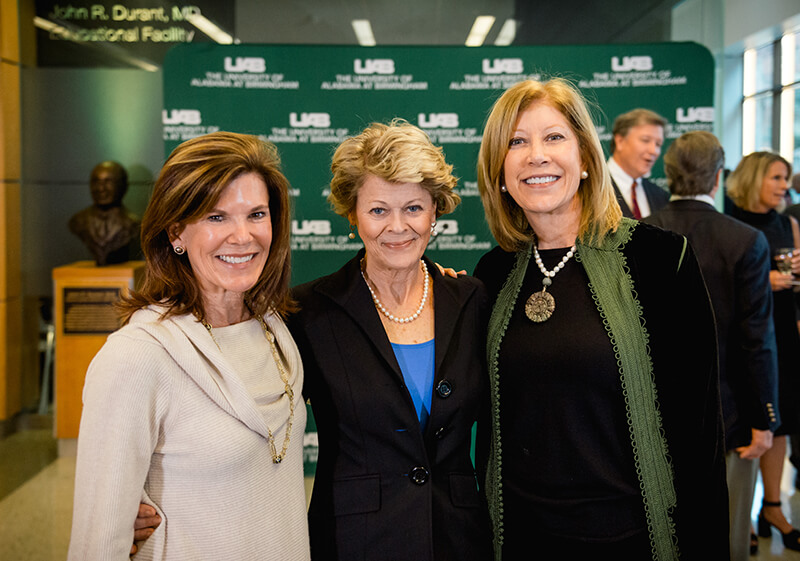 The shareholders first heard about the possibility of the naming gift during their annual meeting last spring. They were impressed with Birrer's vision for moving the Cancer Center forward, and after several meetings to better understand how the gift could help leaders advance strategic goals, the vote to make the gift was unanimous.
"Every generation reaches a place in time when a gift like this is not only possible, but also feels right," says Penny White Page, granddaughter of Kirkman O'Neal. "As we have gotten older, we have a different perspective and we are able to appreciate the generations – long impact that support like this can have for our city, our state and our region. We're very much proponents of making the right gift at the right time, and we all agreed this was the right ti me and the right opportunity for us."
A Lasting Legacy
The naming gift from O'Neal Industries is an extraordinary milestone in the Cancer Center's history. The UAB Cancer Center was one of the original eight comprehensive cancer centers established by the National Cancer Act in 1971 and has been continuously funded by the National Cancer Institute for 46 years.
This truly transformational gift will have a far-reaching impact on cancer research and patient care in our community, state and region.
The O'Neal Comprehensive Cancer Center is the only NCI – designated cancer center in its four – state region. It has a long history in serving the community by conducting outreach efforts among underserved populations in Alabama and Mississippi, and by establishing strategic partnerships with community cancer centers in Alabama, Florida, Georgia and Mississippi to enhance cancer services in the region.
Similarly, since its founding in 1921, O'Neal Industries has continued to grow and is now the largest family – owned steel distributorship in the United States. It represents a family of six companies with a global reach, featuring 80 separate business locations, including 15 international facilities on four continents, employing more than 3,200 people.
"The O'Neal family has built a legacy in Birmingham, first in the city's steel industry and now in the city's future as a biomedical and technology hub. UAB's NCI-designated Comprehensive Cancer Center is among the pre-eminent cancer centers in the world, and we are proud and grateful that our cancer center will bear the O'Neal name," says Ray L. Watts, M.D., president of UAB.
Collen O'Neal, who lives in the Boston, Massachusetts area, says she feels a deep pride that the company and shareholders agreed to make the naming gift. She says her late husband Kirk O'Neal — grandson of Kirkman O'Neal and brother of Craft O'Neal — would be incredibly honored by his family members' philanthropy and community support. Kirk O'Neal passed away in April 2003 after a six month battle with multiple myeloma.
"The family's spirit of giving back is a shared value that goes deep into who each member of this family is, including Kirk," she says. "Kirk had such a desire to do good in the world, and he would feel a deep sense of pride in the family's accomplishments to do more good works."
The younger generation of the family is also excited to be part of not only the Cancer Center's future, but part of supporting cancer research and care that can help others.
"As a member of the fourth generation, I feel incredibly proud and fortunate," says Kirk Reed Forrester, Kirkman O'Neal's great granddaughter. "I also feel a deep sense of gratitude to my great grandfather who founded the company and to all the men and women over three generations who've worked at O'Neal and put the company in a position so that we could make this gift."
"As a mother I am hopeful that this gift can translate to breakthroughs in research, better clinical trials and even to a cure," Forrester adds. "When I think that my four young children might live in a world where cancer isn't such a pervasive fear, I'm filled with optimism about the future."
Forrester says in preparation for announcing the gift, she and her husband, Tate, explained the family's proposal to the two oldest of their children.
"My 9-year-old asked if we were going to cure cancer," Forrester says. "We told her that we didn't know what would happen in the future, but that the doctors and scientists at UAB were certainly going to try."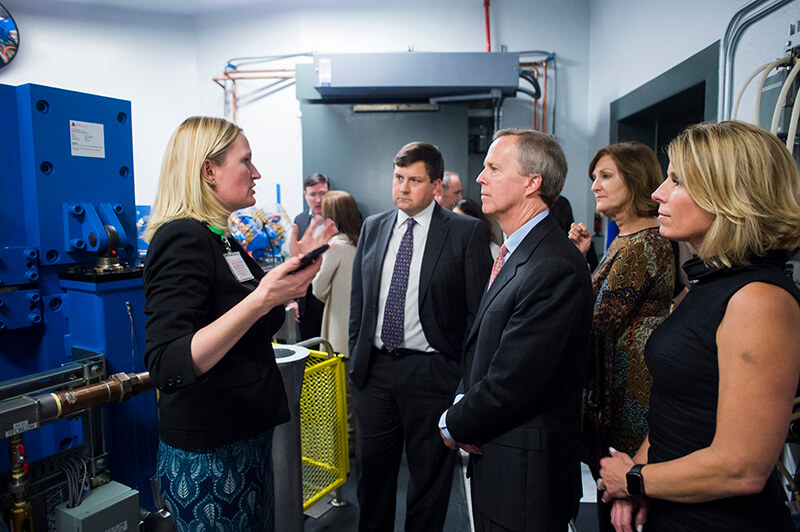 Finding New Treatments
The O'Neal family's fight against cancer is a personal one.
Kirkman's son and successor, Emmet O'Neal, died from emergency surgery associated with colon cancer, and his daughter Libby O'Neal White was a breast cancer survivor. Her husband, David White, succumbed to cancer, as did Craft O'Neal's mother Mary Anne and his brother Kirk. Additional members of both the O'Neal and White families have both survived and lost their lives to cancer.
And they certainly aren't alone.
According to the National Cancer Institute, an estimated 1.73 million people in the United States were diagnosed with cancer in 2018, and more than 600,000 people died from the disease. More than 28,000 of those people diagnosed with cancer are in Alabama, and more than 10,000 Alabamians died from cancer in 2018.
"One out of every 4 deaths will be caused by cancer. Clearly, this is a problem that must be address ed and there is a tremendous amount of effort and resources toward accomplishing this, but until it is no longer a public health problem, it's never enough," Craft O'Neal says.
The gift endowment will create an annual flexible fund that leaders will lever age to bolster strategic initiatives, advance discovery and, ultimately, save more lives through expanded cancer care access.
"This gift will enhance the profile and impact of the cancer center as a premier national destination for those working to end cancer, and those fighting a personal battle with the disease," says Selwyn Vickers, M.D., senior vice president and dean of the UAB School of Medicine. "It will have lifesaving results that can serve as a catalyst for further philanthropic investment, and we are grateful to the O'Neal family and O'Neal Industries for their leadership in the fight to end cancer."
The Cancer Center is more committed than ever to outreach efforts with its education and awareness programs. "Unlike many other institutions, we h ave already made great strides in addressing cancer health disparities, but now we have an opportunity to go deeper and help Alabamians who are most at risk and carry the greatest burden," Birrer says.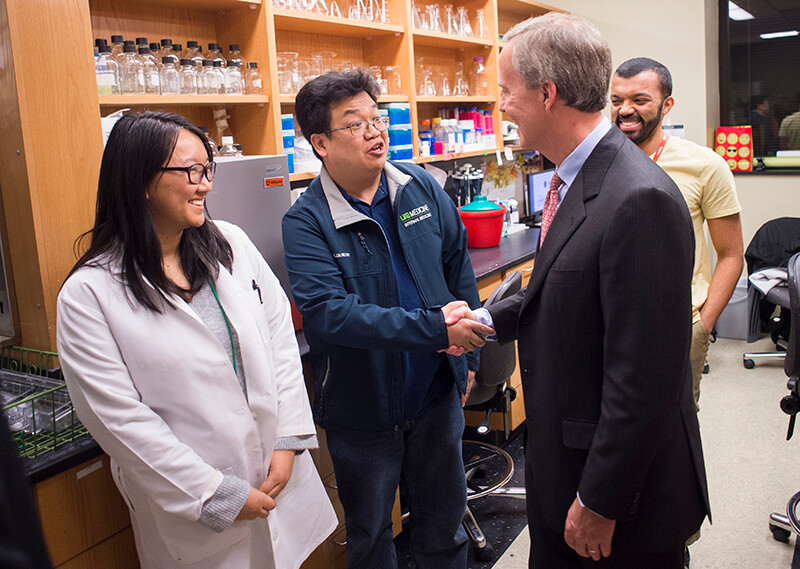 "Clinical trials provide the optimal mechanism to pr ovide the most innovative therapies to our patients," says Birrer. "We want to expand the number of clinical trials available but also increase participation from diverse populations throughout the state and region."
Birrer aims to steadily increase the annual accrual of patients from 500 new patients a year to about 1,500 patients. "This is an ambitious goal but one that I know we can achieve with proper education about the far – reaching benefits."
Therapies which are the result of successful clinical trials often become standard – of – care treatments for people with cancer.
The Cancer Center currently offers a mix of what Birrer calls "different flavors" of trials — including national multi – center trials and pharmaceutical company – sponsored trials. But Birrer thinks an approach called early drug development trials may prove to have the most benefit for patients in Birmingham and the state.
"Drug development has changed radically over the past 10 to 15 years. It used to be a gamble, in the sense that mos t drugs fail, and it was a bit of a random chance," he says. "Now, with the strength of modern molecular biology coupled with extensive preclinical testing, the chance that a drug is going to work is much higher, and patients know that."
But Birrer also thinks early development clinical trials is a mechanism to attract a new generation of biotech companies to Birmingham. "This is very important from my perspective in that the companies involved in early drug development are not only large pharmaceutical firms but also biotechnology companies," he says. "I think we can create a UAB/biotech collaboration here in Birmingham that will help our patients and also drive innovation and revenue for the city."
When I think that my four young children might live in a world where cancer isn't such a pervasive fear, I'm filled with optimism about the future.
Driving Birmingham's Economy
"When I think that my four young children might live in a world where cancer isn't such a pervasive fear, I'm filled with optimism about the future."Kirk Reed Forrester, great-granddaughter of Kirkman O'Neal
Birrer says he has already found one receptive listener for the concept of a future Birmingham biotechnology park — Birmingham Mayor Randall Woodfin. And Birrer thinks Alabama has a competitive advantage since labor costs for biotechnology companies in cities like Cambridge, Massachusetts are probably twice what they would be in Birmingham.
"A UAB/biotech collaboration in Birmingham could harness the knowledge and dedication of students and trainees across UAB's campus, our academic medical center, our expertise in clinical trial s and our entrepreneurial partners to fuel discovery and advancement in cancer research," he says. "The economic impact can be huge. With the now exploding biotech industry, I think there is a real opportunity."
UAB has long been a key economic engine for Greater Birmingham, but the gift from O'Neal Industries will boost UAB's already considerable impact on the city. Birrer says cancer is the UAB program with the clearest route to economic development in Birmingham.
In addition to expanding clinical trials, increasing drug development and pursing a potential biotech collaboration, the Cancer Center will also focus on recruiting top career scientists and physicians to UAB.
"We are determined to make our research bench deeper with scientists who are highly motivated and show signs of great promise," Birrer says. "We want to enhance each of our clinical programs with specialized doctors who will apply new cancer knowledge directly to their patients."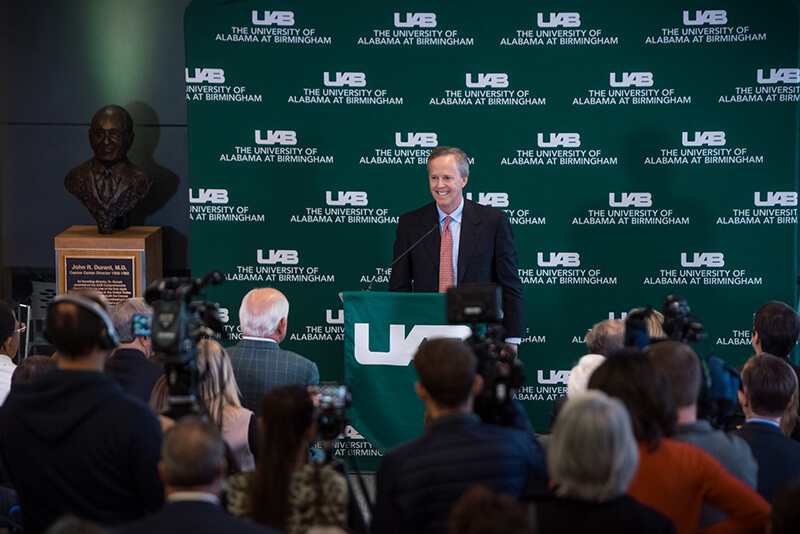 Birrer says attracting high-caliber faculty and researchers benefits the entire community.
"Every research lab at the Cancer Center runs like a small business," Birrer says. "They support the scientific work force by hiring supply and equipment vendors and contractors, as well as administrators and managers who support research infrastructure."
"New faculty members also buy homes and settle their families here, which has a significant and positive impact in the Birmingham community," Birrer says.
Known for his long view, Craft O'Neal says the potential for increased economic growth in Birmingham was a key factor in considering the naming gift. Much like O'Neal, Birrer has a vision for a new dedicated facility that would house every aspect of the Cancer Center's operation in one place. O'Neal hopes other corporate leaders in the city will see O'Neal Industries' act of corporate citizenship and help make this building a reality.
"Our company has a nearly 100-year history here, and that will continue," O'Neal says. "We believe in giving back to the community that has been so good to us. UAB is the economic engine of Birmingham and, to a large extent, the state of Alabama. My hope is that others will see the exciting developments at the Cancer Center and want to invest in its future and that of our city as well."
Bob Shepard and Jeff Hansen contributed to this story.