Scientists of Tomorrow: Shannon E. Meier
Story by Curran Umphrey | Photo by Anna Waters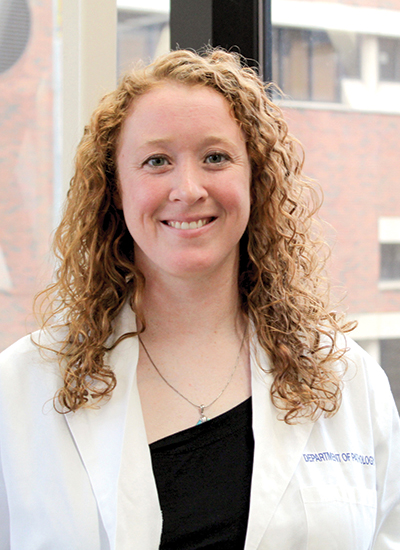 Student researchers are the backbone of the 34 labs housed in the O'Neal Comprehensive Cancer Center at UAB. These researchers take innovative ideas and turn them into groundbreaking discoveries that are used around the world to treat cancer.
Shannon E. Meier, a doctoral candidate at UAB, gravitated toward cancer after testing out three different areas of research during her student rotations. In 2016, she decided to join the O'Neal Cancer Center in its mission to become a national leader in cancer research.
Mentored by Rajeev Samant, Ph.D., who is a senior scientist at the Cancer Center, Meier and her peers study breast cancer, how it spreads and how it grows in parts of the body where it did not originate.
Meier spends her days in the lab focusing specifically on Wnt signaling pathways, which allow individual cells to "communicate" with each other. She is exploring how cutting off this cellular communication could prevent breast cancer cells from spreading.
"This was a brand new research project when I started, so I essentially had no data on it," Meier said. "Because it's been like building from the ground floor up, it's been a struggle, but it's exciting and very rewarding because I can take full ownership of this work."
Within the nucleus, the "brain" of the cell, are nucleoli, which are responsible for producing ribosomes. Ribosomes make protein, and cancer cells need a lot of protein to divide as rapidly as they do. Through her research, Meier has learned that breast cancer cells have more nucleoli than noncancerous cells, which means that these cancerous cells are making more protein.
To get to the root of this issue, Meier is looking for a way to target the nucleolus through Wnt signaling in order to shut down protein production.
While Meier says that being one of the first to explore this understudied area of breast cancer is motivation in itself, her personal ties to the disease drive her daily research even further.
"My aunt has had breast cancer twice, and she always wants to know what we're doing in the lab and what kind of progress we're making," Meier said. "My research could one day impact someone else's life, and while no one person is going to cure cancer, I'm eager to contribute my one little grain of sand to the beach."