The Anatomy of a Trial
Story by Anna Waters | Photos by Steve Wood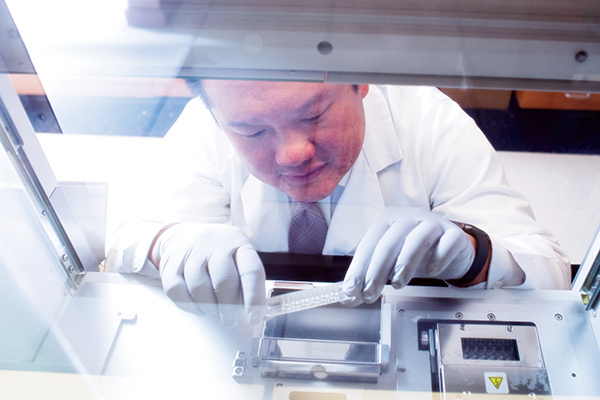 For some, the words, "clinical trial," might bring to mind images of a mad scientist, a laboratory experiment or a vial of some strange, bubbling chemical. Others might be completely unfamiliar with the term. Either way, these words can sometimes seem frightening at first glance, especially for people with cancer.
However, for many patients who have benefited from participating in a clinical trial, the words can go on to develop a new meaning, one that imagines a future without cancer – or in some cases, just a future at all. To these patients, a clinical trial represents the opportunity to not only actively participate in their own medical care, but also to participate in the future of care for others with cancer.
But what is a clinical trial? A clinical trial is a special kind of research approach that physicians and scientists use to study the effects of a new treatment in order to compare it to an existing treatment. If the new treatment proves to be safer or more effective than the current standard treatment, it can become the new standard of care for treating people with cancer.
Clinical trials represent the culmination of a long, rigorous process by which physicians and researchers translate promising scientific findings from the laboratory into medical practice so those findings can become new treatments for a disease.
As researchers ask questions about how cancers develop in the human body, they can use the results of their research to develop potential treatments for cancer that can challenge the bodily processes upon which cancers depend. These potential treatments are then tested in clinical trials where they are offered to cancer patients. Clinical trials are a vital component of this "bench-to-bedside" model that defines the field of translational science, representing the bridge between scientific research and patient care.
Luciano Costa, M.D., Ph.D., the associate director of clinical research at the O'Neal Comprehensive Cancer Center at UAB, says this is why both the O'Neal Cancer Center and UAB Medicine have made a collective effort to improve access to these new treatments and therapies for cancer patients and survivors.
"The leadership at the O'Neal Cancer Center and at UAB Medicine have fostered a strong culture of clinical trials as our mainstream approach to cancer treatment," Costa said. "In 2020, our clinical trial options and our commitment to world-class clinical research and patient care are stronger than ever."
How do clinical trials work?
The treatments that are tested in clinical trials must be studied carefully and evaluated in large, diverse groups of people over long periods of time before they can be officially offered to the general public as the standard of care. But if a new treatment does prove to be effective, trial participants could be among the first to benefit from it, especially if their cancer is not responding to existing treatments.
Many specialized cancer treatments and therapies that were, at first, only available through clinical trials later become the standard of care, including several immunotherapy approaches such as the use of CAR-T cells and immune checkpoint blockades.
Doctors decide whether a patient is eligible for a clinical trial depending on the patient's specific kind of cancer, current condition and individual needs. If doctors believe a patient might benefit from a new treatment offered by a clinical trial, they will give the patient the choice to enroll.
Patients participating in a clinical trial receive the new, experimental treatment or, at the very least, the best available existing treatment for their cancer. Patients who receive the existing treatment typically still benefit from it as they would have if they had received it outside of the trial.
However, clinical trials do not deprive participants of standard cancer treatments if those treatments might effectively fight their cancer. Rather, participants are sometimes given the existing treatment, alongside the new treatment being tested in the trial.
Regardless of what treatment they get, trial participants are closely monitored by their care team to track their response to the treatment and any potential side effects.
The O'Neal Comprehensive Cancer Center is one of the largest clinical trial enterprises at UAB. As the only National Cancer Institute-designated comprehensive cancer center in Alabama, the O'Neal Cancer Center is also the only health care provider in the state where patients have access to more than 200 cancer clinical trials and the new treatments offered by them.
Barry Sleckman, M.D., Ph.D., director of the O'Neal Cancer Center, says its NCI designation and diverse clinical trials portfolio differentiate the Cancer Center from other cancer care providers in the state.
"Today, many patients on clinical trials are experiencing remarkable, disease-altering effects on cancers that were uniformly lethal just yesterday," Sleckman said. "For this reason, offering cancer patients clinical trial opportunities is really the standard of care for cancer in 2020."
O'Neal Trials
The O'Neal Comprehensive Cancer Center at UAB is committed to offering its patients a diverse array of high-value clinical trials with potential disease-altering impact.
The O'Neal Trials program will invest in building the Cancer Center's clinical trials portfolio and training junior clinical faculty at the O'Neal Cancer Center to become nationally recognized clinical trialists.
The Cancer Center's new Francisco Robert, M.D., Clinical Investigator Award will help secure the mentoring and development of the next generation of clinical cancer investigators in honor of Robert, who has spent his storied 50-year career working to provide clinical trials to his cancer patients and to mentor young physicians to become cancer clinical trial scientists.
For more information on how you can help support the Francisco Robert, M.D., Clinical Investigator Award or the O'Neal Trials program, please contact Lisa Roth at leroth@uabmc.edu or (205) 934-0930.
What's in a phase?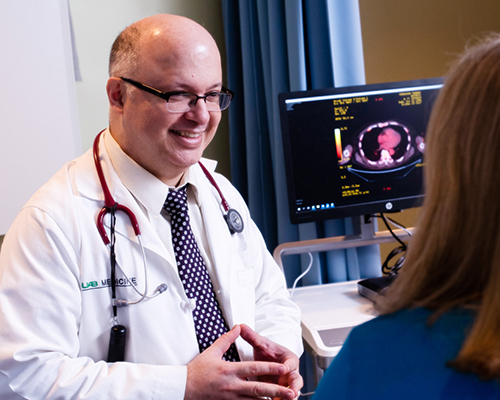 Clinical trials are conducted in at least three phases, each of which seeks to answer different questions about a new treatment. It can take a long time for a trial to move from one phase to another, which means it might be years before a treatment is officially approved by the Federal Drug Administration.
In Phase I trials, physicians and scientists learn how a new treatment should be administered, what constitutes the optimal dose and schedule, and how the treatment affects the human body. Before a treatment is ever introduced to patients in a Phase I trial, it has already undergone years of testing in which it has been shown to have potential effects on the various biological processes that are known to cause or be caused by cancer. The goal of a Phase I trial is to determine whether those effects are the same when applied to cancer in humans, as well as to identify any possible side effects of the treatment.
Phase II trials focus on how the treatment affects a specific type of cancer in larger groups of people. Then, if a treatment shows promise in Phase I and Phase II, it is tested in a Phase III trial, where physicians and scientists work to confirm its effectiveness, monitor any potential side effects and compare it to the existing standard-of-care treatments for that specific type of cancer. Phase III trials are large-scale studies that can include hundreds or even thousands of people.
The O'Neal Cancer Center provides patients with many novel options for clinical trials. Its Phase I Clinical Trials Program is the only dedicated Phase I program in Alabama, offering first-in-human trials of new therapies to many people whose cancer remains largely unaffected by other treatments. The program's team of 12 research faculty works to improve patients' access to Phase I trials and to support cancer investigators with the infrastructure necessary to conduct them.
After his appointment to medical director of the O'Neal Cancer Center's Clinical Trials Office in 2019, Costa now leads the center's efforts to expand its clinical trials footprint and to train the next generation of cancer treatment trial scientists.
"We put an emphasis on Phase I, first-in-human trials, where the innovation is, and on creating our own concepts. That is where we can make the most difference by deploying the creativity and expertise of our teams and our state-of-the-art infrastructure," Costa said. "When you have a coordinated team effort, motivated investigators and the partnership of our wonderful patients, you can accomplish big things."
Who participates in clinical trials?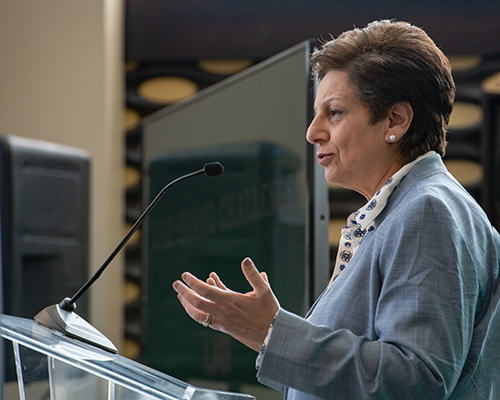 Despite the O'Neal Cancer Center's push to expand its Clinical Trials Office and increase trial enrollment, only 3-5% of adult cancer patients in the United States participate in trials at all, according to Oncology. Demographic data also indicates that cancer patients who are enrolled in clinical trials, both in and outside the U.S., are more likely to be younger, male and white.
According to the Alabama Department of Public Health, the biggest barriers to advancing the field of cancer care through clinical trials are the limited number of people who participate in trials and the lack of diversity among those who do.
Mona Fouad, M.D., MPH, a senior scientist in the O'Neal Cancer Center and the senior associate dean for diversity and inclusion in the UAB School of Medicine, suggests that some would-be participants might also fear being subjects in clinical research. Fouad says that at least some of this fear is due to the field's historical exploitation of racial and ethnic minorities, such as in the case of the Tuskegee Syphilis Study, whose deceptive use of placebos and other unethical practices left 400 Black men without treatment for or knowledge of their condition over the course of about 40 years, beginning in 1932.
While a patient who receives a placebo may feel better as a result, an experience known as the "placebo effect," Fouad says placebos, or sugar pills, are almost never used alone in cancer trials unless they are combined with a treatment that is already approved for a patient's particular condition.
"With cancer treatment trials, if you're not getting the experimental treatment or drug, you're getting the standard of care. You're not losing anything," she said. "If someone has a condition like cancer, it is unethical not to give them a treatment at all. There is no way you would take a cancer patient off their standard medication without giving them the experimental treatment instead."
The world has seen foundational, revolutionary changes in the ways clinical research is conducted since the Tuskegee Syphilis Study, primarily through the establishment of institutional review boards for the protection of human subjects and informed consent requirements. However, Fouad says that earning back the trust of communities who have been historically disenfranchised by the medical field is also a necessary prerequisite for researchers and health care professionals who hope to increase clinical trial participation in these minority populations.
"We can't ignore what happened with the Tuskegee Syphilis Study. We are in the state of Alabama, so it's still in the background when they make a decision to be in a trial," Fouad said. "But what helped us earn their trust is that we acknowledged those mistakes, and then we explained the changes that have been made because of these mistakes."
Fouad says there are a variety of other factors that can affect minority participation in clinical trials, including perceptions of inequality in delivery of care, insufficient health insurance coverage and social determinants of health, such as the inability to take time off work or to find transportation to get to and from appointments.
Racial bias could also play a part in the lack of minority participation in cancer clinical trials. According to a recent paper authored by Soumya Niranjan, Ph.D., an assistant professor in the UAB School of Health Professions and an associate scientist in the O'Neal Cancer Center, some researchers and health care professionals stereotype minorities as less compliant or altruistic than their white counterparts and, therefore, less suitable for participation in oncology clinical trials.
Fouad says this is one example of why multiple strategies and approaches are necessary to address minority participation in clinical trials.
"First, you want to earn trust from the people in these communities. Second, you want to address the barriers of the social determinants. Then, third, you have to find a way to navigate patients through our health care system without intimidating them," she said. "But you also have to train the environment of our health care system itself. We have to make it more accessible to our minority participants and patients."
The O'Neal Cancer Center has a long history of providing minority groups and medically underserved communities in Alabama with cancer education materials, support for preventive care and access to clinical trials. Through the Office of Community Outreach & Engagement and its Community Health Advisor program, local volunteers assist in the development, implementation and evaluation of cancer education initiatives and multilevel participatory research in these communities, which includes connecting them with cancer researchers and providing them with information on clinical trials.
"We are working tirelessly to remove administrative barriers, recruit and develop new investigators, fast-track our own discoveries and educate patients," Costa said. "Despite all the adversities imposed upon us by the pandemic, 2020 is well on track to be a record year in the number of clinical trial participants at the O'Neal Cancer Center."
Why does it matter where you go for cancer treatment?
As the world looks to the medical community for answers on treatments, therapies, tests and the nature of their discovery and development, clinical trials have moved from the lab to the clinic, to the community and, now, to the public eye, especially in relation to the novel coronavirus, COVID-19.
"Clinical trials are now in the spotlight, both nationally and globally, as scientists race to develop new, effective treatments in the face of a pandemic," Sleckman said. "While UAB is a national leader in COVID-19 clinical trials, we at the O'Neal Cancer Center have not lost sight of our core mission to reduce the cancer burden in our state."
While physicians and scientists across the globe continue to study new ways to fight cancer, as well as the ongoing COVID-19 pandemic, the potential treatments that result from those studies are often tested right here at UAB.
"Our cancer patients have always had the opportunity to benefit from transformative treatments, due to the strength of our clinical research enterprise and the innovation of our doctors and researchers," Costa said.
Learn more about clinical trials at the O'Neal Comprehensive Cancer Center at UAB.