Translating the Science
Story by Anna Waters | Photos by UAB News
Beyond the work UAB is conducting through the National Cancer Institute and the NCI COVID-19 in Cancer Patients Study, some scientists at the O'Neal Comprehensive Cancer Center are using what they've learned in their cancer research to fight COVID-19.
Keshav Singh, Ph.D., a senior scientist at the O'Neal Cancer Center, is considered an expert on the role of mitochondria in cancer but has recently turned his attention toward their role in COVID-19. In a study published in the American Journal of Physiology in June, Singh and his co-authors investigated how the novel coronavirus, also called SARS-CoV-2, avoids the cell's immune response by hijacking the mitochondria within it.
Mitochondria serve as a hub for antiviral signaling. They can detect viral infection in a cell and cause the cell to self-destruct before the virus can spread further. Singh says viruses such as SARS-CoV-2 can impair the functionality of mitochondria, but so can cancer, especially for people who are older or have African ancestry.
Mitochondrial dysfunction induces mutations in nuclear DNA, leading to the immortalization of cells common to cancer, as well as the ability of SARS-CoV-2 to evade host cell immunity and replicate. With his colleagues at Kings College Hospital in London, England, Singh recently validated mitochondrial hijacking in COVID-19 patients and found a strong correlation between the increased expression of mitokine, a mitochondrial stress-induced cytokine, and the severity of COVID-19.
O'Neal Invests
The O'Neal Invests program supports new, paradigm-shifting cancer research proposed by O'Neal Comprehensive Cancer Center investigators. These are novel ideas with great promise for impact in cancer care, as determined by a peer-reviewed panel of experts.
For more information on how you can help support the O'Neal Invests program, please contact Lisa Roth at leroth@uabmc.edu or (205) 934-0930.
"These observations suggest that drugs that can either interfere with the hijacking of mitochondria or restore host mitochondrial function may prevent or treat COVID-19 and cancer," Singh said.
The role of cytokines is an important area of study for COVID-19 research. When the body's immune system overreacts to an infection, it can result in a cytokine storm, which is thought to be responsible for many of the deaths related to COVID-19.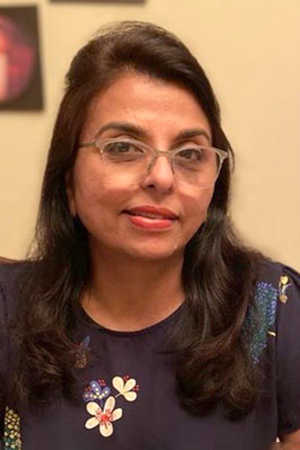 Jessy Deshane, Ph.D., a scientist at the O'Neal Cancer Center, says that it is likely that the cytokine storms that are associated with infection cause the hyperactivation and eventual exhaustion of T cells, which impair these cells' ability to fight infection. She and her team are using healthy tissue collected from lung tumor resections to provide a new platform to study how SARS-CoV-2 infects the lungs and how the immune system responds to those infections.
Deshane has repurposed a lung tumor model, developed with UAB Associate Professor of Biomedical Engineering Joel Berry, Ph.D., to generate 3D, tissue-engineered, human-lung tissue models to investigate how SARS-CoV-2 impacts the immune system. She says these tissue models and the resulting line of research may open up new avenues for studying and treating lung cancer.
"Novel strategies that induce metabolic reprogramming, in combination with immune checkpoint blockades, may suppress cytokine storms and overcome the functional exhaustion and hyperactivation of T cells that are seen in both cancer and COVID-19," Deshane said. "These therapies may be helpful in the management of patients with lung cancer in the COVID-19 era."
Learn more about how COVID-19 affects cancer patients, survivors, scientists and health care providers in the cover story of the Fall 2020 issue of the O'Neal Comprehensive Cancer Center magazine.